The healthcare industry is constantly evolving, and in 2023, healthcare recruitment strategies will be more important than ever. With changing workforce needs and the looming shortages within the healthcare industry, healthcare organizations need effective strategies to attract and retain top talent.
According to The Bureau of Labor Statistics, the healthcare industry is projected to experience the highest job growth rate compared to other sectors, with an estimated addition of approximately 2.4 million jobs between 2019 and 2029. As a result, to attract top talent in the healthcare industry, hospitals will need to adopt innovative and expedited hiring processes.
Table of content:
The importance of healthcare recruitment strategies
3 Reasons why healthcare recruitment strategies are important
Current state of the healthcare industry: challenges facing healthcare recruitment in 2023
Top healthcare recruitment strategies for hiring physicians and nurses in the healthcare industry
Top 5 healthcare recruitment strategies
5 of the best recruitment strategies for physicians
How to recruit nurses – top 5 strategies
Wrap-up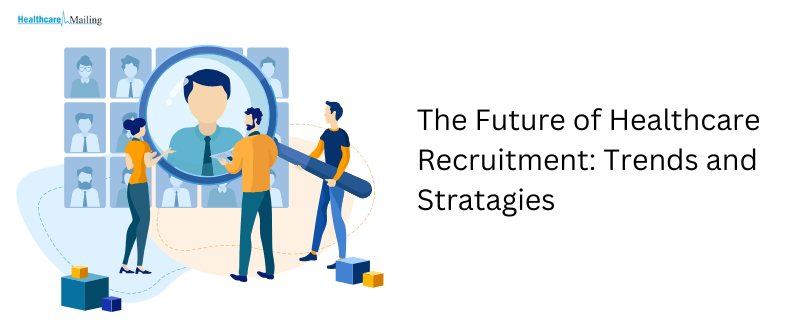 In this blog post, we will explore the current state of the healthcare industry, the challenges facing healthcare recruitment, and effective recruitment strategies for healthcare facilities, physicians, and nurses. By the end of this post, you will better understand how healthcare organizations can succeed in their recruitment efforts in 2023. So, let's get started!
The importance of healthcare recruitment strategies
As the United States continues to face a nationwide labor shortage, employee recruitment and retention are more important than ever. Since the epidemic began, the healthcare industry has lost over 20% of its workforce, leaving many hospitals and medical facilities with essential positions that must be filled.
Healthcare hiring is essential for offering specialized and high-quality healthcare services, streamlining the overall patient experience, including healthcare-related and administrative tasks, etc. In fact, the growth and success of a healthcare organization depend on the people working there. As a result, attracting today's top talent has become essential for healthcare organizations to stay on top.
100% Validated Doctors Email List by Specialty
3 Reasons why healthcare recruitment strategies are important
The demand for reliable and dedicated healthcare workers has never been higher, but the available pool of candidates has never felt more limited. Medical staffing, unfortunately, has hit a state of crisis. Here's why you need to invest in recruitment strategies.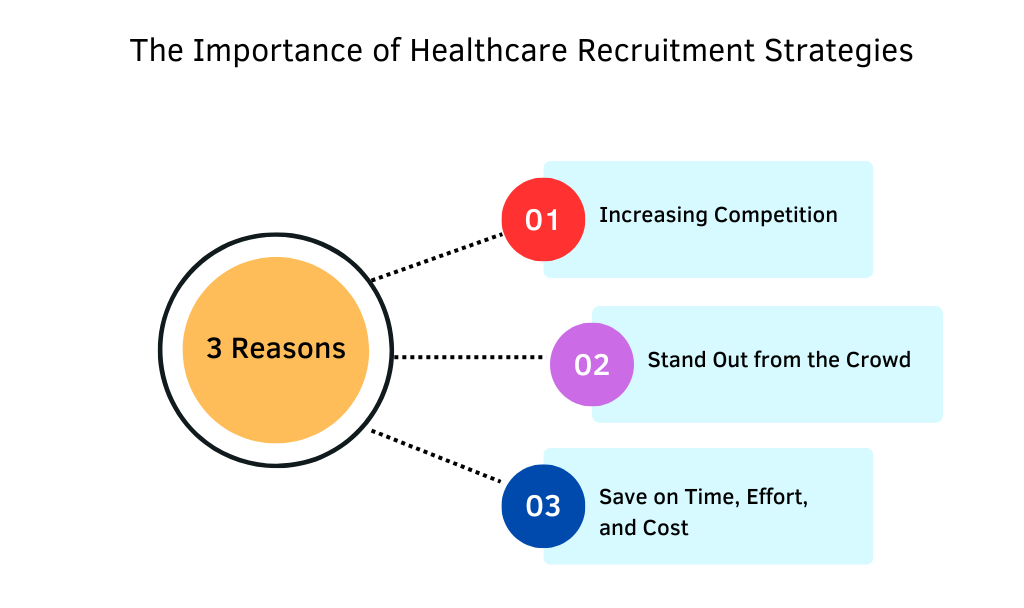 1. Increasing competition
Let's face it: workers are quitting healthcare jobs at an unprecedented rate. As a result, there is fierce competition among healthcare recruiters in diverse regions. In such a situation, relying on desperation or simply having an appealing office sign is insufficient to attract top talents. To attract the best applicants, healthcare recruiters must first define and efficiently target their target audience. Failure to do so may result in falling behind the competition.
2. Stand out from the crowd
There are most likely several organizations that offer similar opportunities, so what is there to persuade a top prospect to pursue work with your healthcare organization? The competition for talent is heating up, which is why it's critical to develop an evidence-based plan that aligns recruitment efforts with your company goal. This enables a company to consistently locate, hire, and develop top performers for all roles.
3. Save on time, effort, and cost
Healthcare managers can save valuable time, effort, and costs associated with the healthcare recruitment process by engaging in effective healthcare recruitment strategies. For example, if healthcare managers are aware of recruitment agencies that offer online assessment and psychometric testing services to identify the best-fit candidate, they can delegate recruitment responsibilities while focusing on their core job functions, reducing the recruiting hassles and streamlining the hiring process.
Current state of the healthcare industry: challenges facing healthcare recruitment in 2023
The healthcare recruitment landscape is undergoing significant changes as the number of vacant positions for various roles, including physicians and registered nurses, continues to rise. One of the most significant challenges facing the healthcare industry is the widening gap between the demand and supply of skilled professionals. According to a 2021 Mercer study, the demand for registered nurses in the United States is projected to increase by 5% over the next five years, resulting in the retirement of approximately 900,000 nurses by 2026. This means that healthcare providers will need to recruit over 1.1 million registered nurses to meet the rising demand.
In addition, the demand for mental health employees in the United States is predicted to increase by 10% by 2026, with healthcare providers needing to fill more than 500,000 openings by then.
Such frightening data underscore the need to reinvent the healthcare recruitment landscape and implement new strategies to close the existing gap.
Some of the major healthcare hiring issues mentioned by recruiters and HR (Human Resource) managers are listed below.
1. Time-consuming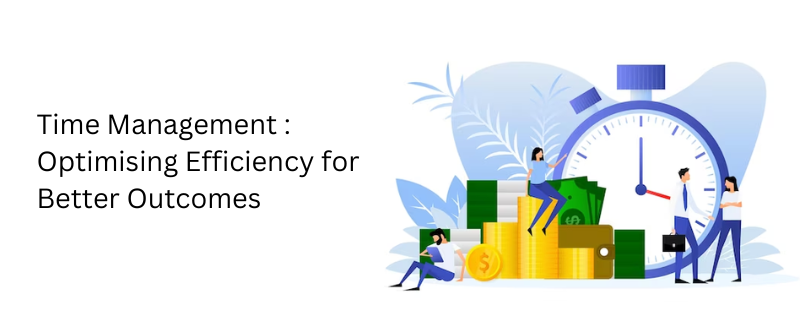 Traditional healthcare hiring processes are often relied on due to the limited room for error, but the skill-centric nature of the medical profession demands rigorous testing and screening methods. However, such hiring activities are time-consuming and exhausting. Not to mention recruiters may invest excessive resources in the process with a limited success rate. Many managers and HR professionals feel this is a tedious process and are looking for alternatives.
2. Shortage of qualified talents
According to experts, the new generation of medical practitioners is not yet equipped to advance to higher positions. This issue offers huge hurdles for healthcare recruiters, as demand for primary care physicians is expected to climb by 4% over the next five years while retirement risk accelerates with the age of the workforce.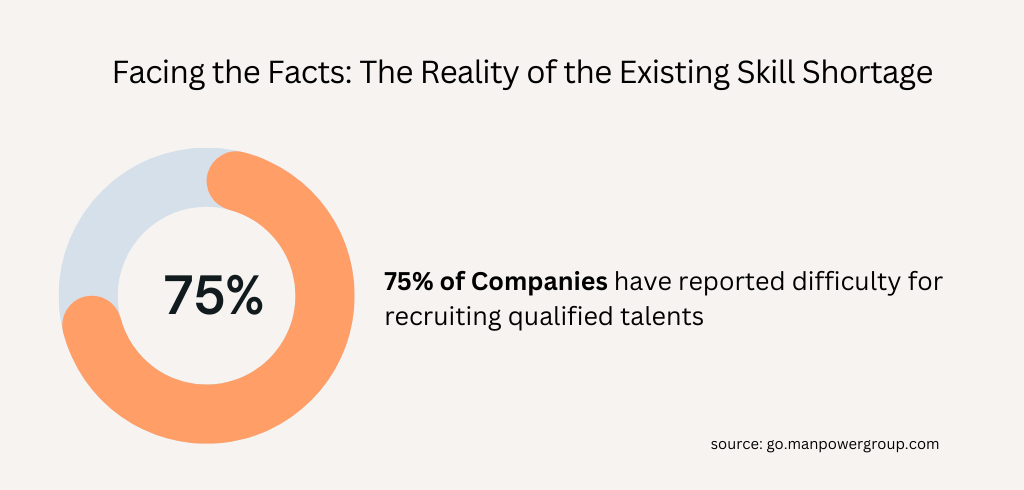 According to the US healthcare labor market report 2021, it is estimated that almost 23,000 primary care physicians will permanently leave the profession by 2026. This creates a huge crisis for healthcare organizations.
3. Compensation
Like any other industry, the talent pool prefers to work for the healthcare provider that pays the most. However, due to financial constraints, recruiters are unable to provide competitive wages. As a result, there is a good chance that a qualified individual will go to the competitors.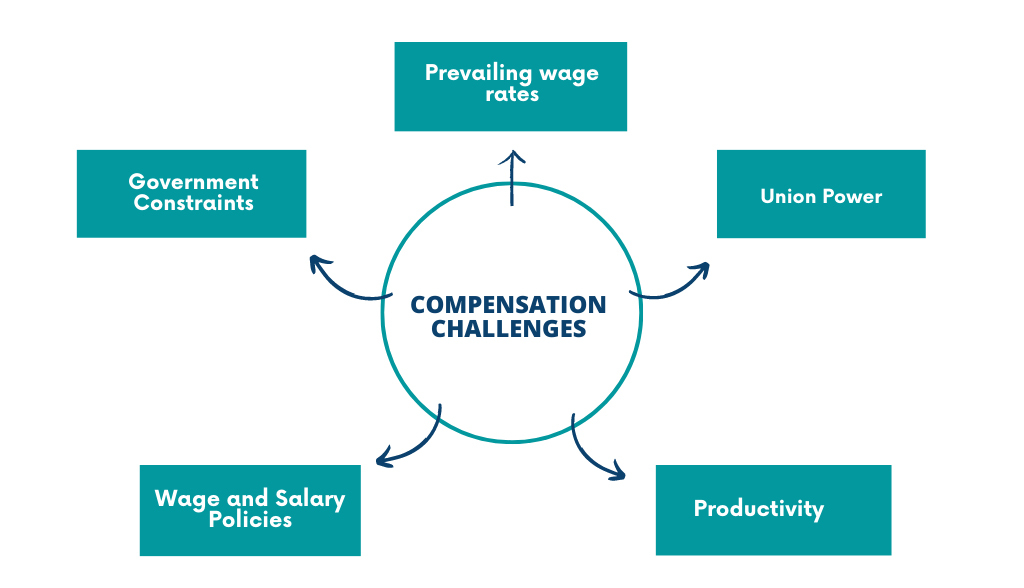 4. Limited variety
Diversity is essential in the medical industry. When you have a diverse workforce, you can provide complete treatment to your patients. According to study, people connect more with a doctor of the same ethnicity and cultural background.
Top healthcare recruitment strategies for hiring physicians and nurses in the healthcare industry
Effective recruitment entails much more than simply posting job openings online. It necessitates a more nuanced approach driven by specific needs. Expanding your recruitment net and changing your employment procedure is critical for your healthcare organization's future.
Here are some unique ideas for upgrading your recruitment process and locating the perfect candidates in 2023.
Top 5 healthcare recruitment strategies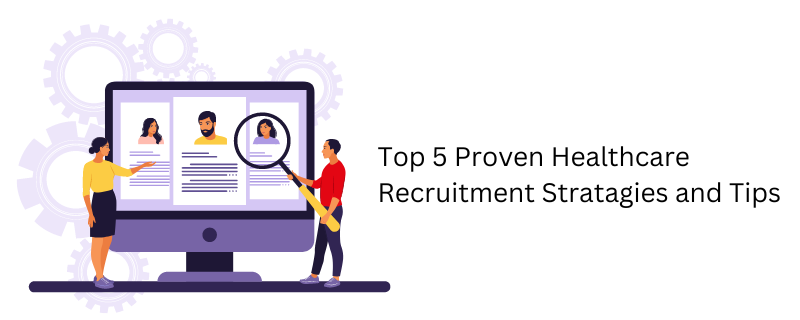 1. Tailor-made job descriptions
Simplifying the decision-making process is crucial when it comes to attracting top talent and qualified individuals. Using standard templates for job descriptions may not be effective as candidates may feel that their skills and experience do not match the job description. Creating customized job descriptions on recruitment platforms can be a great way to attract qualified candidates.
2. Create more diverse and inclusive workplaces
Diversity and inclusion are becoming increasingly crucial in the healthcare industry since research has shown that diverse teams are more effective at addressing complicated problems. Healthcare organizations may recruit top talent by promoting diversity and inclusion in their hiring procedures and cultivating a workplace culture that welcomes diverse viewpoints and experiences. This can be accomplished through various strategies, such as unconscious bias training, focused outreach to underrepresented groups, encouraging employee resource groups, etc.
3. Priorities candidates needs and requirements
Healthcare providers seeking to attract top talent, including doctors, nurses, and allied health professionals, need to offer more than just competitive wages. Job seekers in the healthcare industry look for organizations with a positive work culture, career advancement prospects, and a strong commitment to patient care.
Creating a positive candidate experience is crucial for healthcare providers to demonstrate that they value their prospective employees' personal and professional growth, which can increase their interest in joining the organization. This can be achieved by providing personalized communication, a transparent recruitment process, and professional development opportunities.
4. Consider college recruiting
College campus recruiting can assist you in identifying developing individuals in a specific area, as well as linking your organization with internship hiring opportunities and university relationships. You can recruit from colleges in a variety of methods, such as attending career fairs or job fairs, offering to speak at industry events, and being listed on university online job boards.
5. Leverage technology
The healthcare business is no stranger to technology, particularly when it comes to hiring. From application tracking systems to video interviews, many healthcare institutions are already leveraging software and technology to expedite their recruitment procedures. This not only saves time but also makes it easier to find the best applicants. So, if you're still hiring in the stone age, it's time to jump on board the technological train and get with the program!
5 of the best recruitment strategies for physicians
1. Determine the required level of experience
Since all positions are created differently, you must identify the level of experience and qualifications necessary for the specific position. Not only is this necessary for your practice to successfully meet internal staffing demands, but candidates also want a clear knowledge of expectations and responsibilities so they are not caught off guard later.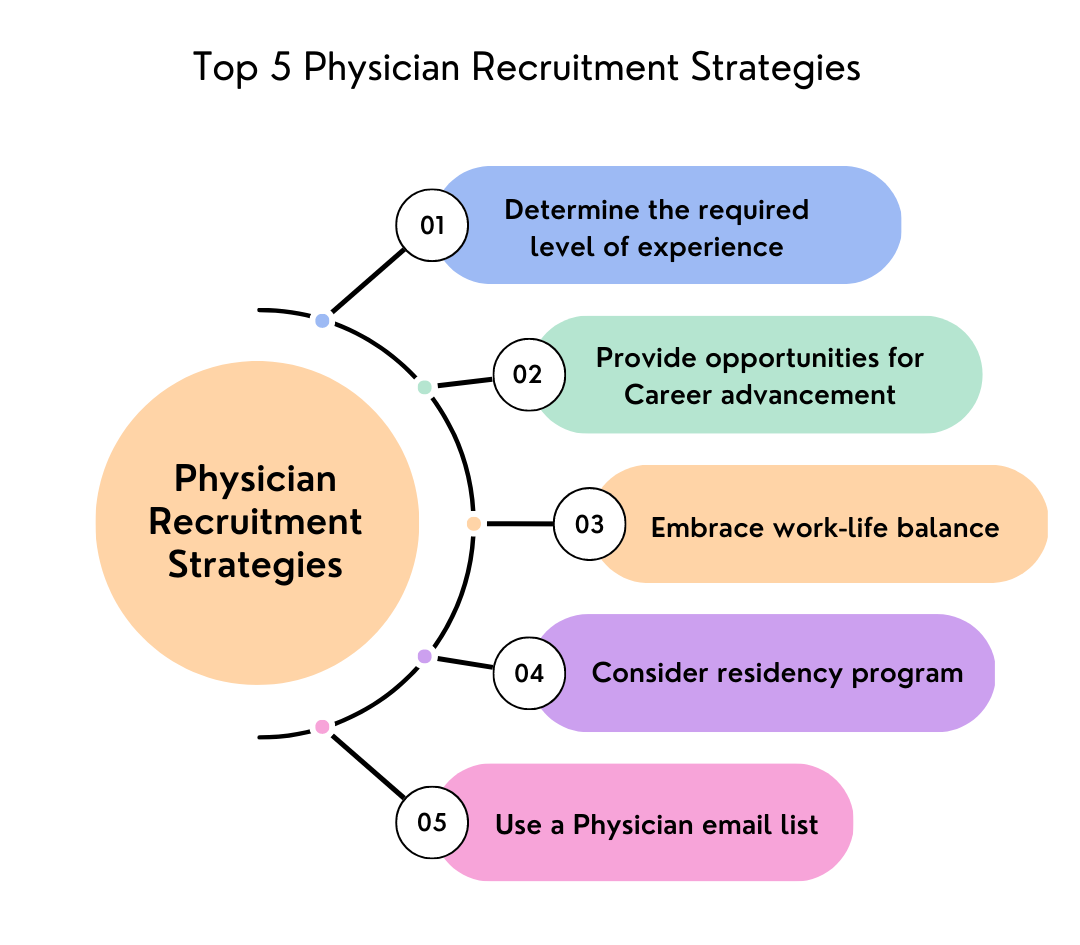 2. Provide opportunities for Career advancement
Another key motivator for doctors seeking new employment is the desire to advance their careers. This could indicate that they want fewer administrative responsibilities, a new practice partner, or to abandon solo practice entirely. The good news for doctors is that this is an excellent time to work in healthcare. According to Merritt Hawkins, the vast majority of residents (91%) prefer to work for a hospital, medical group, or other facility rather than in independent private practice. So, it's time you zero in on the reasons physicians leave their existing employment and offer the right kind of place and incentives that attract and retain talent.
3. Embrace work-life balance
Consider embracing flexibility and work-life balance as part of your recruitment strategy. Many healthcare workers, particularly younger generations, prioritize work-life balance and the ability to work remotely or have flexible schedules. Offering these options can make your organization more attractive to top talent.
Moreover, focusing on employee well-being and mental health can also help attract and retain qualified candidates. This can include providing employee assistance programs, mental health resources, and flexible leave policies.
4. Consider residency program
Connecting with a residency program can be a great way for healthcare providers to recruit talented physicians and other healthcare professionals. Residency programs provide a pool of newly graduated, highly skilled, and motivated professionals who are eager to begin their careers in the healthcare industry. By building relationships with these programs and participating in recruitment events, healthcare providers can establish themselves as desirable employers and attract top talent. Additionally, residency programs often offer training and continuing education opportunities, which can be a valuable resource for physicians looking to expand their skill set.
5. Use a physician email list
Using a physician email list can help attract adequate physicians, allowing the organization to focus on other important areas of healthcare. One of the main benefits of using a physician mailing list is that it can save you time and money. The provider will do all of the work for you, including identifying qualified physicians and helping your organization find top physicians who would otherwise go unnoticed.
A reputable physician data provider offers verified and accurate data on all physician specialties. You can find top prospects based on their job title, years of experience, job status, and more. Whether you're looking for fresh recruits or experienced physicians, the data provider will do all the work for you at affordable prices.
How to recruit nurses – top 5 strategies
Recruiting nurses is different from recruiting physicians as they have different skill sets, education, and training requirements. As such, they require different recruitment strategies.
Here are the top 5 most effective strategies to attract and recruit qualified nurses on the go: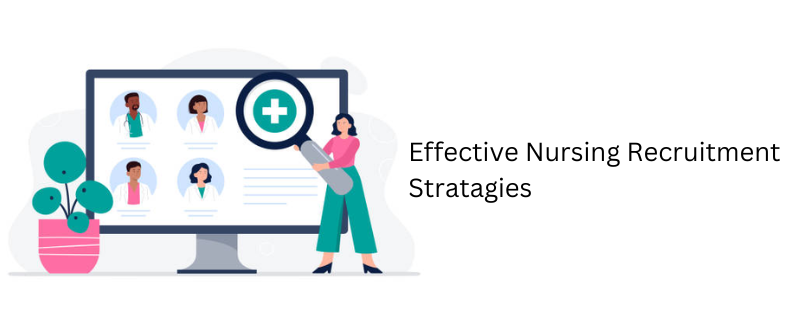 1. Advertise effectively
Explore various advertising options to effectively market your job openings and attract potential candidates. Traditional outlets such as nursing college handbooks, email marketing, conference sponsorship, website ads, and print/online ads in medical publications are still effective ways to reach out to nurses. Don't hesitate to explore all possible channels to promote your job opportunities.
2. Offer competitive compensation and benefits
Given the shortage of qualified nurses in the market, it's important to understand that competitive compensation is key. Offering a comprehensive compensation package, including attractive benefits such as educational reimbursement and loan repayment programs, can help you stand out and attract top talent.
Other job benefits can include signing and retention bonuses, travel expenses, paying for further education and qualification, and employee gifts such as catalog shopping, monthly massage, etc.
3. Remote recruiting
According to The State of talent acquisition 2021, Mercer, 81% of survey respondents preferred virtual interviewing platforms.
Virtual recruiting came into existence when all doors were closed due to the covid-19 pandemic. However, it is still trending due to the benefits of flexibility and time-saving. Virtual platforms simplify the interviewing process and allow for more skill-based assessments, which can help in refining the selection criteria and filtering in the most qualified candidates. As a result, virtual recruiting has become a popular choice for many organizations.
4. Cultivate relationships with them
The mechanics of nurse recruitment necessitate monitoring your nursing audience's feelings. This is best accomplished by surveying your current employees and analyzing external nursing sentiment research studies. You can look it up on research firms, nurse labor unions, employment firms, and professional groups.
Once you understand your audience's requirements and desires, you can modify your messaging to appeal to them. The greatest way to do this is to tell an authentic brand story. Personal relationships with your target talent audience are required to demonstrate that you are a fit for their requirements, not simply yours.
5. Highlight the benefits of working at your healthcare facility
To attract qualified nurses, show them that your facility is an attractive place to work. Make sure to emphasize the benefits of working at your facility, such as staff care and safety, opportunities for career advancement, and work-life balance policies. Additionally, consider featuring veteran nurses in your marketing efforts to showcase the positive aspects of the job and share their experiences with potential candidates.
Is the nurse email list the perfect solution for nurse recruitment?
The nurse email list can be a valuable tool for nurse recruitment, and yes, it can be an ideal solution for organizations looking to recruit nurses.
How?
A nurse email list contains verified contact details for various types of nurses – be it registered nurses, nurse practitioners, certified nurses, or other specialty nurses. It gathers valuable information regarding these nurses and brings it into one centralized database. Basically, the list cuts off the tedious process of prospecting.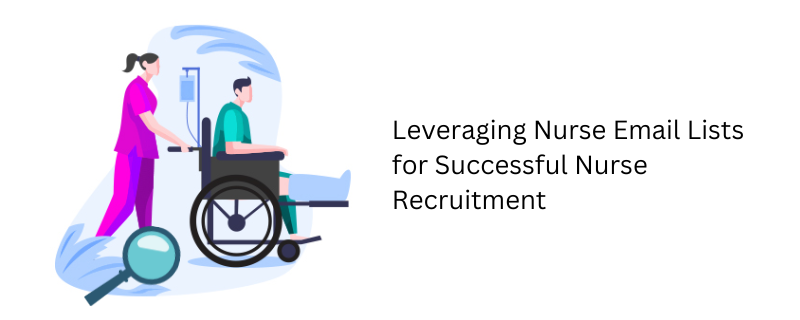 By having access to a nurse email list, recruiters can easily reach out to qualified candidates and promote their job openings. This saves time and effort in sourcing potential candidates and enables recruiters to quickly connect with nurses who match their specific job requirements. Additionally, email marketing is a cost-effective way to promote job opportunities, and with a nurse email list, recruiters can target their messages to a specific audience. It provides segmented data based on various criteria such as job title, practice specialty, years of experience, etc., which allows recruiters to engage in personalized and targeted marketing.
In addition, nurse email lists are compliant with all local and international laws and regulations, such as GDPR and CAN-SPAM. So, you don't need to worry about data issues as well.
Wrap-up
In conclusion, healthcare recruitment – be it physicians or nurse recruitment- is a challenging task requiring a targeted and strategic approach. There are issues in the healthcare industry, but there is no reason to panic. Employers may still attract and retain top people with the correct strategies.
Simply update yourself with the latest strategies and implement those in your search for qualified prospects. If you're finding it tiring and time-consuming, you can always look for alternatives, such as email lists. Nonetheless, we have already mentioned the most effective strategies for attracting qualified talents from each field; just remain true to them and you'll attract and hire the most qualified and talented candidates to meet your staffing needs.