List of Healthcare Professionals
Get Insightful Information On The Podiatrist
If your primary care physician believes it is required, they would usually recommend you to a Podiatrist in the United States. You can also investigate your symptoms or research your diagnosis to learn about the kind of doctors who often treat your health issue.
Ask your Podiatrist about the following topics: diagnosis details, symptom management, medical care, treatment plans, side effects, expectations for follow-up appointments with your Podiatrist, and many more.
When patients require expert foot and ankle treatment, doctors usually refer them to a podiatrist. The Podiatric Subspecialty of medicine focuses on diagnosing and treating foot problems and illnesses affecting the lower legs.
Podiatrists treat bunions to diseased toenails, and patients may be confident that a podiatrist will provide the best solution to their foot problems. However, many people, particularly elderly patients, often refer to chiropodists. You might search for "podiatrist near me" or "female podiatrists near me" in the USA. Let us first explore what it means! Chiropodists or Podiatrists, are they similar? Here's the answer.
So, what precisely is a chiropodist, and how does the job of a podiatrist differ from that of a chiropodist? There is no technical difference in how a chiropodist and a podiatrist function; "chiropodist" and "chiropody" are obsolete medical terminology.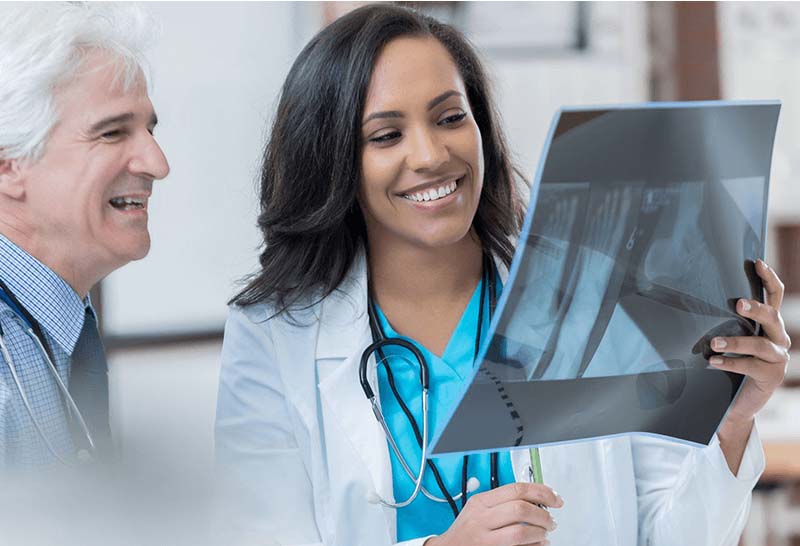 What Is The Role Of A Podiatrist?
A podiatrist diagnoses and treats foot, ankle, and leg-related diseases. The Podiatrist might specialize in Sports medicine, wound care, pediatrics, and diabetic care. You can become board certified by completing coursework, gaining clinical experience, and passing an exam.
A podiatrist may conduct the following tasks daily:
Diagnose foot problems such as ulcers, tumors, fractures, etc.
To address conditions, employ novel approaches.
To rectify abnormalities, use corrective orthotics, casts, and strappings.
Balance and proper walking patterns
Patients should be given personalized consultations.
You must take care of your feet. Taking healthy feet for granted is easy, but foot problems are among the most frequent health issues. The Podiatrist near you can help diagnose and treat a wide range of foot ailments; therefore, you must consult one if you require assistance.
What Conditions Do Podiatrists Treat?
Podiatrists treat people of all ages for various foot-related issues, including fractures and sprains. Podiatrists treat these frequent injuries to the foot and ankle daily. They also work in sports medicine, treating players' foot ailments and advising them on how to avoid them.
Bunions and hammertoes are two examples of foot problems. A bunion develops when the joint at the base of your big toe expands or becomes misaligned. As a result, the toe bends toward the others. These ailments require the attention of the chiropodist immediately.
In Diabetes, there is a condition in which your body either does not produce or does not use the hormone insulin as it should. Insulin aids in the digestion of sugar. Diabetes might cause nerve damage in your feet, and you may have difficulty getting enough blood to your feet. It causes more than 65,000 people to have their feet amputated (removed by a doctor) each year. A podiatrist can assist in preventing this. If you have Diabetes, you must get sores or calluses on your feet examined.
Heel spurs, a calcium deposit at the bottom of the heel bone, significantly cause heel pain. Sports and unsupportive footwear are frequently to a fault. Overpronation, which occurs when your foot bends in or out too far when walking, is a common cause. Achilles tendinitis, which causes pain at the back of your heel where this tendon attaches, can also afflict athletes. Treatment usually begins with over-the-counter pain relievers and may include shoe inserts known as orthotics. Some people require surgery. Thus, these adverse issues require medical attention immediately.
The Benefits Of Visiting A Podiatrist
Your feet put in a lot of effort. As the research claims, you'll have walked 75,000 miles on them by age 50. Feet are complex structures with several bones, tendons, and ligaments that must work in unison to keep you moving. To protect it from various ailments, it is necessary to visit the Local Podiatrist Near Me in the USA.
When you have the following symptoms, consult a podiatrist immediately:
Foot ache
Toenails that are thick or discolored
Your skin has cracks or cuts.
Wart-like growths
Your soles have scale and peels
What To Expect At A Podiatrist Visit?
The first visit to a podiatrist will be similar to any other doctor's visit. They will inquire about your medical history, the medications you are taking, and any procedures you have had. They'll examine how you stand and walk, your joint range of motion, and your shoe fit. Bunions, ingrown toenails, lower back pain, main blood circulation in your feet in case of Diabetes, and foot abnormalities can be treated at the initial appointment.
The Podiatrist may recommend orthotics, padding, or physical therapy to treat your difficulties. Some conditions can be treated in the office itself. They may use syringes to administer pain medicine or a nail anvil to remove ingrown toenails. Scalpels can cut the skin around a toe or remove portions of corns and calluses. Many clinicians employ cryotherapy equipment to remove plantar warts.