The worldwide medical devices market is valued at roughly $488.98 billion in 2021 and is expected to reach an amazing US$718.92 billion by 2029. The rising prevalence of chronic diseases, combined with healthcare providers' increased emphasis on diagnosing and treating diseases earlier, is leading to an increase in patients undergoing diagnostic and surgical procedures, which is encouraging companies to improve, develop, and create new innovative medical advancements.
The world's largest healthcare firms and medical device manufacturers, many of which are American, have gotten more recognition than ever in 2020 due to increased demand for testing kits, ventilators, face masks, and, most recently, vaccines as countries strive to combat the Covid-19 epidemic. While a variety of metrics can be used to rank these companies, we've utilized market capitalization to identify who is now leading the American medical devices industry.
With that in mind, these are the ten largest US medical device firms by market capitalization in 2022.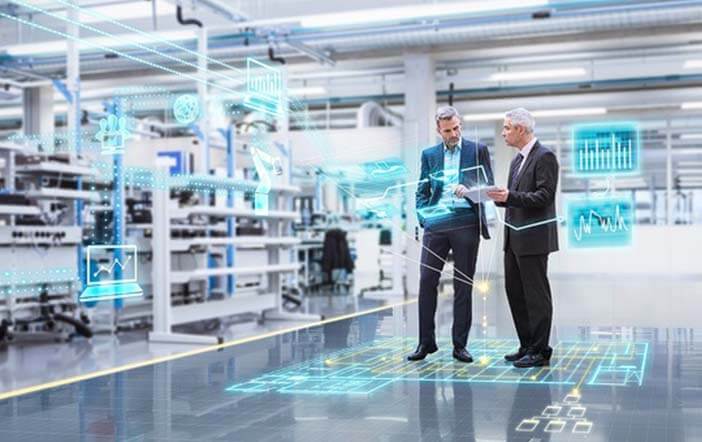 What Is Medical Device Manufacturing?
Medical device manufacturing encompasses all aspects of medical device fabrication, from establishing a manufacturing process through scaling up to continual process improvements. It also comprises the sterilization and shipping of a gadget.
Medical device manufacturers aspire to be faster and more efficient throughout the manufacturing process, but they also want to be responsible corporate citizens. As a result, manufacturing necessitates ongoing research into renewable resources, sustainable materials, energy-efficient equipment, and waste-reduction techniques. These challenges can be addressed through improved procedures, technological advancements in machine or equipment components, or safer/more reliable materials. The packing process follows the same principles.
Many medical device manufacturers thrive at the originality, concept, and prototyping stages of product development and outsource component or whole device production to contract manufacturers. This is true for both established original equipment manufacturers (OEMs) and mid-sized businesses and startups. Contract manufacturers differ in size and competence as well – some are small, precise operations that specialize in specific materials or components, while others are vast cleanroom facilities capable of large-scale production.
Top 10 Medical Device Manufacturing Companies In The USA By Market Capitalization
Medical equipment manufacturing is an industry that creates a wide range of products for use by physicians, nurses, hospital employees, medical researchers, laboratory technicians, and other healthcare professionals.
According to revenue statistics, the following businesses are the top 10 manufacturers in this industry:
1. Johnson & Johnson
Johnson & Johnson (J&J) generates a sizable percentage of its revenue from medicines, as well as consumer health items such as those sold under its renowned Johnson's baby brand, but the New Jersey-based company also makes a wide range of medical devices.

Source: Johnson & Johnson
In reality, not only is it the world's largest manufacturer of medical devices in 2020, but the Financial Times estimates that J&J was the world's tenth-largest publicly traded firm by market cap in the first half of the fiscal year. It presently has a total revenue of close to $82 billion, employs 140,000 people, and spent more than $11 billion on research and development in 2019 - the largest of any medical device company in the world.

Source: Johnson & Johnson
2. Abbott
Abbott, an American multinational company, is ranked second on this year's list of the top medical device firms. Abbott, which was founded over 130 years ago in Illinois, provides medical products and healthcare solutions to more than 160 nations. The corporation, which employs 113,000 people globally, is well renowned for developing ground-breaking technologies in diagnostics, medical equipment, nutrition, and branded generic medications. Abbott's medical devices and diagnostics businesses climbed by an astonishing 32.7% year-on-year basis in 2021. Diagnostics increased by 42.7% owing to Covid-19 testing. In 2021, Abbott expanded its Medical Devices pipeline with several advancements, including the US launch of the first-of-its-kind technology NeuroSphere Virtual Clinic.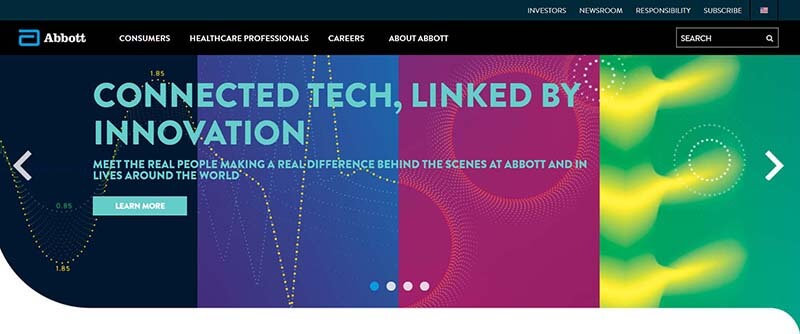 Source: Abbott
3. MEDTRONIC
Medtronic is one of the world's largest medical device companies at the forefront of medical technology, employing over 90,000 people and operating in 150 countries. Medtronic recorded revenues of $31.7 billion in the fiscal year 2022, an increase of 8% over the previous year's figure of $29.4 billion. Growth was led by strong performance in three of the company's major therapeutic areas: cardiology (+6%), medical surgery (+4.6%), and neuroscience (+7%). Further gain was offset by a 3.1% fall in the Diabetes sector, as US sales fell due to the lack of new product approvals.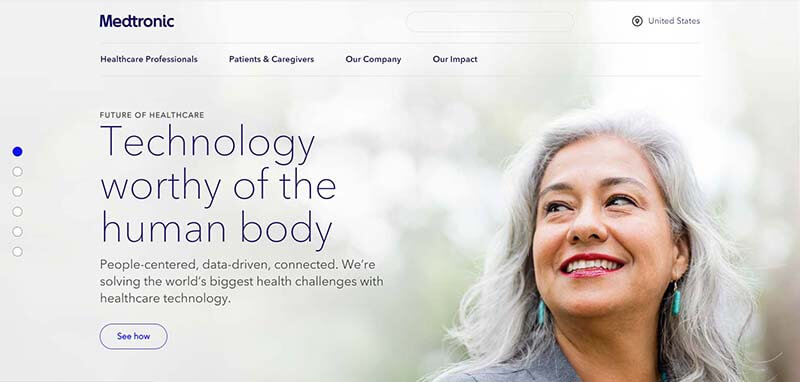 Source: Medtronics
4. BECTON DICKINSON & COMPANY
Beckton Dickinson & Company, abbreviated as BD, is an American multinational medical device company that manufactures and sells medical devices, instrument systems, and reagents. Following a drop in growth due to the negative effects of the Covid-19 pandemic last year, BD turned things around in 2021, with sales increasing by a whopping 18% to $20.2 billion. This good performance was primarily driven by increased investments in higher-growth sectors and increased M&A activity. The FACSymphony A1 Cell Analyzer, the COR System, a fully automated high-throughput molecular diagnostic platform, the Veritor at-home Covid-19 test, and the Rotarex Rotational Excisional Atherectomy System are among the latest products introduced by BD as part of its innovation-driven growth plan.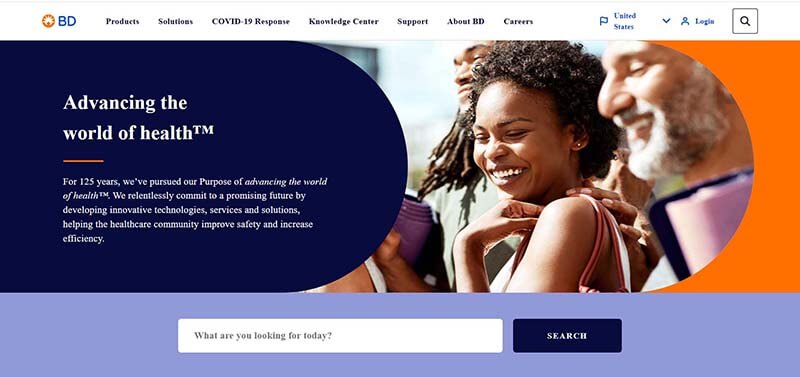 Source: BD
5. Danaher
Danaher is an American-based company in the District of Columbia. The company's total revenue for the year 2022 was $31.250B, an 11.35% rise from $29.453B in 2021. It employs 80,000 workers across 60 countries. Danaher began as a real estate investment trust 50 years ago before refocusing as a manufacturing corporation in 1984, and it now manufactures a variety of goods in the health sciences and diagnostics industries.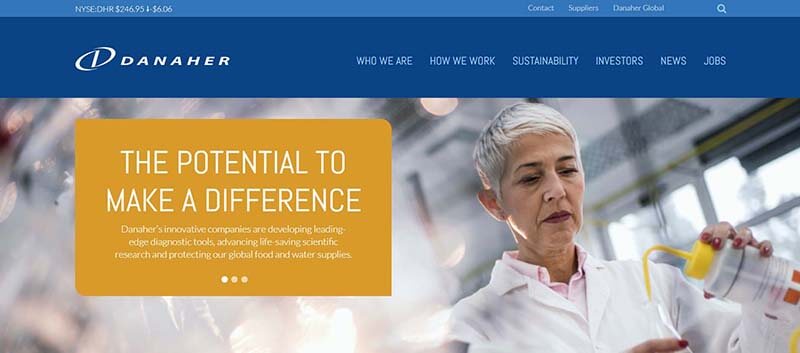 Source: Danaher
6. STRYKER
Stryker, an American multinational medical technology company, is a leading medical device manufacturing company this year. Stryker, which employs 46,000 people globally, is dedicated to developing breakthrough solutions in orthopedics, medical and surgical solutions, neurotechnology, and spinal care that enhance patients' conditions and hospital outcomes. Stryker had grown for 40 years in a row before 2020, but with fewer medical procedures owing to the Covid-19 pandemic, the company's sales plummeted by 3.6%. However, it returned to growth in 2021, with revenues increasing by an astonishing 19%, thanks to exceptional performances in MedSurg and Neurotechnology, as well as Orthopaedics and Spine. Stryker's revenue for the fiscal year ended September 30, 2022, was $17.948 billion, a 7.67% increase over the previous year's revenue of $17.108 billion.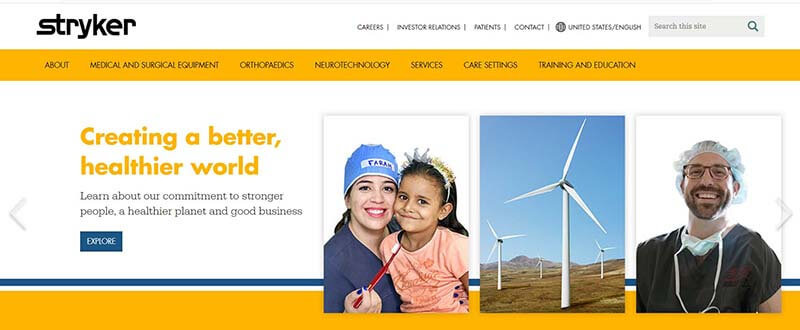 Source: Stryker
7. General Electric
GE Healthcare, a global leader in medical technology and life sciences, is a constant in the top ten. GE Healthcare is well-known for its imaging, ultrasound, software, and life care solutions and has a diverse product range. General Electric's annual revenue for 2021 was $74.196 billion, a 2.16% decrease from the previous year. This is because supply chain interruptions have a negative impact. However, its revenue for the year ended September 30, 2022, was $75.073B, representing a 0.23% growth year on year.

Source: GE
8. Baxter
Baxter, situated in Illinois, sees an overall revenue of $14.740 billion in 2022, an 18.38% increase from $12.784 billion in 2021. The corporation employs 60,000 employees worldwide.

Source: Baxter
Its medical equipment products are classified as critical care, surgical care, hospital care, and renal care - and its leading products include the Amia dialysis machine, which is used to treat patients with end-stage renal illness at home, and also the Spectrum IQ infusion pump. During the global swine flu pandemic in 2009, Baxter was also one of only a few companies to get EU approval for an H1N1 influenza vaccine candidate.
9. 3M Company
3M Company, which was started about 120 years ago as a mining firm, arguably made its first major step into healthcare when it manufactured the first asthma inhaler in the 1950s.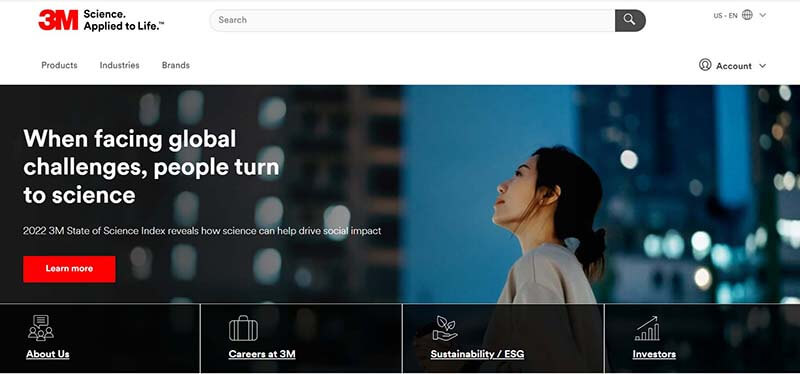 Source: 3M Company
3M also produced the first N95 respirator mask, which gained popularity during the Covid-19 pandemic, and obtained FDA certification in 1972. The Minnesota-based company is today the largest global manufacturer of sterile packaging for use in the medical industry, with Scotch tape being one of its most well-known products of any kind. Today, 3M has total revenues of $34.762B, a 1.6% decline from the previous year, employs over 93,000 people, and spends little less than $2 billion on R&D.
10. Intuitive Surgical
Unlike the majority of the firms on this list, Intuitive Surgical, despite offering a wide range of healthcare-related products, is best known for one very specialized medical technology.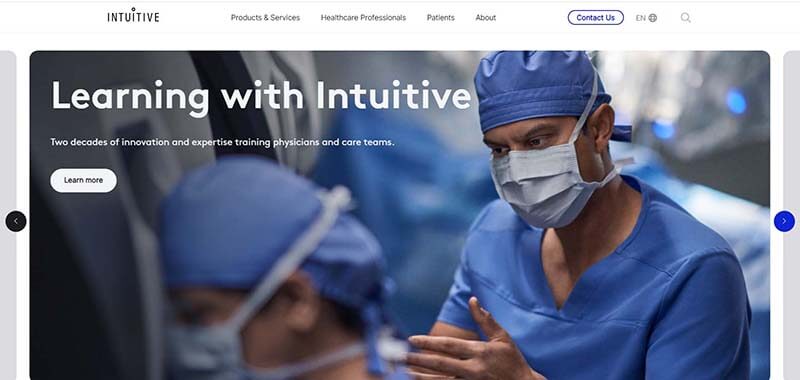 Source: Intuitive Surgical
Its Da Vinci robotic surgical system, which can be operated by a surgeon via a console, has been used in more than six million minimally invasive procedures, including prostatectomies, heart valve repairs, and gynecologic surgeries such as hysterectomies. Intuitive Surgical now has a total revenue of almost $6.118 billion, thanks largely to this gadget, which has helped the company become an industry leader in robot-assisted surgery. It also has about 5,500 employees.
Wrap-Up
We hope you enjoyed reading this in-depth post about the top leading medical device manufacturing companies in the present market. These companies are constantly competing to provide the best care to healthcare providers and patients. They are at the forefront of innovative healthcare solutions and technological advancement.