Medical device Manufacturing is undoubtedly the most active, varied, and worldwide sector today. The varied needs of patients, combined with the Covid-19 epidemic, encouraged companies to innovate and build new inventive solutions in the medical devices market in 2021. Many medical device companies have made technological advances and grown exponentially in recent years. Despite heavy regulation and financial pressures on the industry, the market continues to grow globally. The worldwide medical devices market was valued at USD 488.98 billion in 2021 and is expected to reach an astounding USD 718.92 billion by 2029, with a CAGR of 5.5% during the forecast period. A variety of causes are driving growth, including an increase in the number of healthcare institutions, rising healthcare expenditure, technology developments, and an aging population.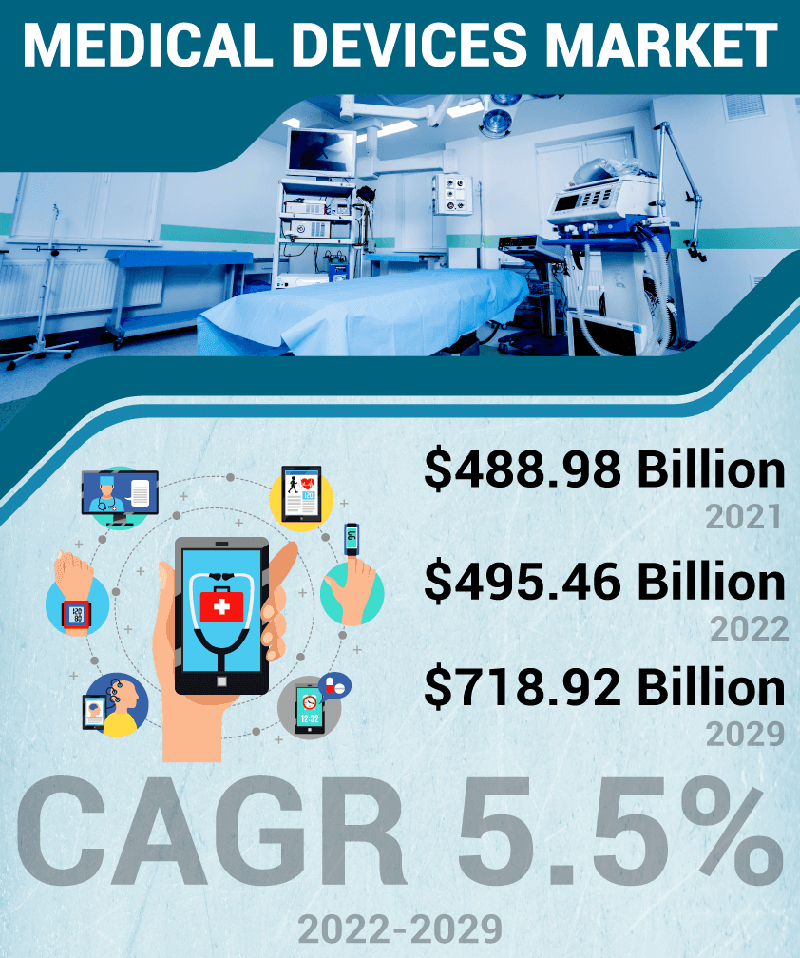 Source: Fortune Business Insights
Below, We have ranked the top medical device businesses in terms of revenue in 2021, focusing just on their medical devices category results. The following are the top ten largest medical device firms in the world in 2021.
Medical Device Manufacturer – An overview
Medical device companies specialize in the development, design, and manufacture of medical equipment that can be used in a variety of different healthcare settings. The medical device sector is expanding at a tremendous pace that does not appear to be slowing anytime soon. This business has grown mostly as a result of the increasing number of chronically ill people in the world's aging population. These disorders necessitate the development of innovative remedies that may be utilized to alleviate symptoms and provide assistance to those who are affected. As a result, this industry is beneficial to patients and individuals. These MedTech companies manufacture all the technology used in healthcare settings. Patients who require heart and brain monitoring are the principal benefactors of recent technological breakthroughs. Because of how significant the MedTech industry has grown, more and more companies are joining it every day. Emerging developments in cloud computing, IoT, AI-based technologies, and blockchain are variables that contribute to the advancements of top MedTech enterprises with sufficient resources.
Top 10 Vendors in the Medical Device Manufacturing Sector
The medical device sector is rapidly expanding, which is beneficial in healthcare settings. Here is our list of the top 10 medical device manufacturing companies!
1. Medtronic PLC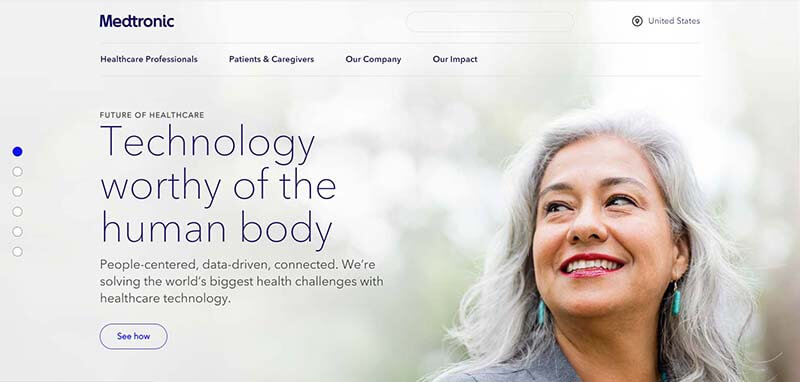 Source: Medtronic
Medtronic is one of the world's largest medical device companies. It is at the forefront of medical technology, employing over 90,000 people and operating in 150 countries. Although Medtronic's sales declined by 4% in 2020, the results were commensurate with the impact felt across the medical device industry as a result of deferred surgeries due to the pandemic. With many recent approvals and delayed product launches, Medtronic's pipeline continues to drive treatment innovation.
2. Johnson & Johnson

Source: J&J
Johnson & Johnson is a medical device company subsidiary of the larger Johnson & Johnson pharmaceutical corporation. They currently own several medical device companies, including Cerenovus, Biosense Webster, Acclarent, and Ethicon. They have long been a market leader in medical devices, owing to their concentration on surgery, orthopedic treatment, diabetes, cardiovascular care, and vision care. They raked in more than $93.77 billion in sales alone in 2021 and have the best market cap in the business at $450.35 billion.
3. Cardinal Health, Inc.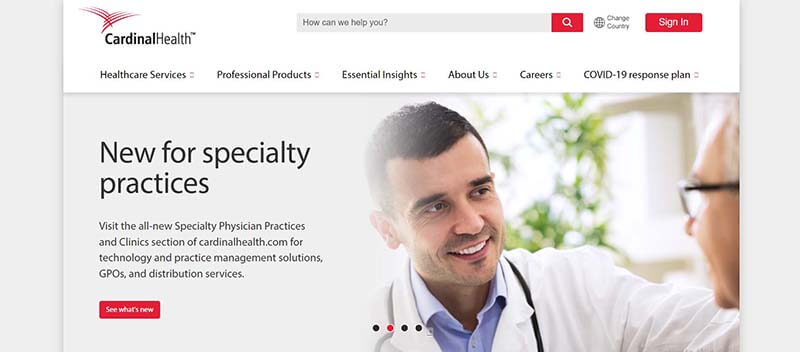 Source: CardinalHealth
Cardinal Health is one of the world's biggest medical equipment firms, and it is listed on the Fortune Global 500. They have a global presence, with offices in Dublin, Ohio and Dublin, Ireland. Cardinal Health is currently the largest producer of surgical products and medical devices in the country, as evidenced by its delivery of supplies to more than 75% of hospitals in the United States. Their products range from long-lasting medical equipment to sophisticated patient monitoring systems. Despite generating more than $160 billion in revenue in 2021, the company recorded a net loss of $611 million for the year.
4. Abbott Laboratories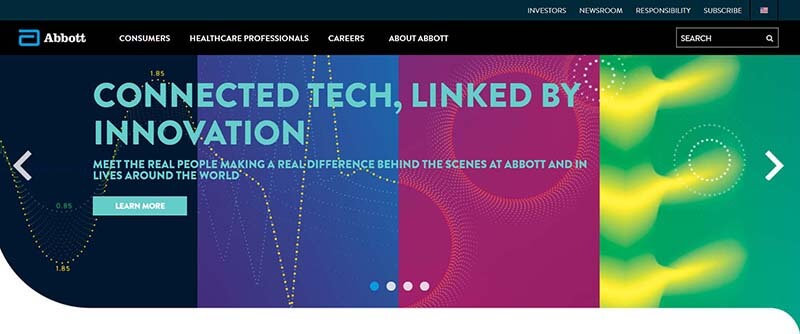 Source: Abbott
Abbott Laboratories, established in Chicago, is a large healthcare corporation focusing on nutrition, pharmaceuticals, diagnostic treatments, and medical equipment. Many laboratories, hospitals, and other healthcare facilities across the world have used their products. They are among the top medical device manufacturer as their equipment and technologies have shown to be incredibly successful at diagnosing diseases and providing continuous monitoring. Abbott Laboratories' annual sales for 2021 was $43.075 billion, a 24.47% increase over the previous year.
5. Philips Healthcare

Source: Philips Healthcare
Philips is a diverse technology corporation with almost a century of experience. Philips' healthcare division accounts for 42% of total revenue and is divided into three major segments: Diagnosis & Treatment, Connected Care, and Personal Health. Philips generated roughly 17.16B euros in revenue in 2021, the company's third-lowest annual revenue since 2009.
6. Siemens AG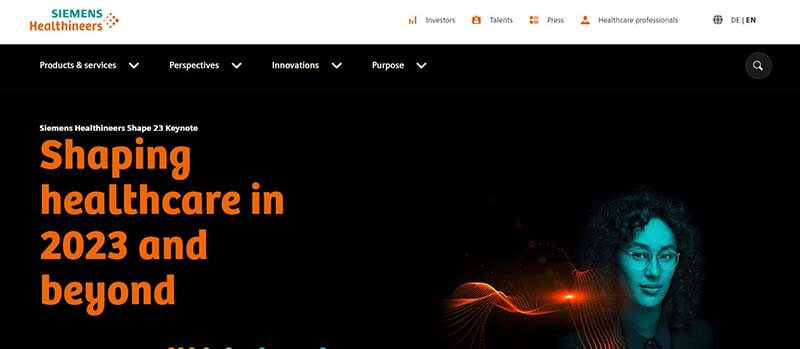 Source: Siemens
Siemens AG is a large industrial manufacturing firm that is regarded as one of the industry's leading manufacturers and inventors of medical products. Their goods mostly revolve around diagnostic equipment and medical imaging systems, with the latter accounting for the majority of their revenue. Siemens AG increased its annual revenue by nearly 12% in 2021, with annual revenue exceeding 62 billion euros in the fiscal year 2021. South East Asia, Europe, and the Americas are the key markets to which they deliver medical devices.
7. Stryker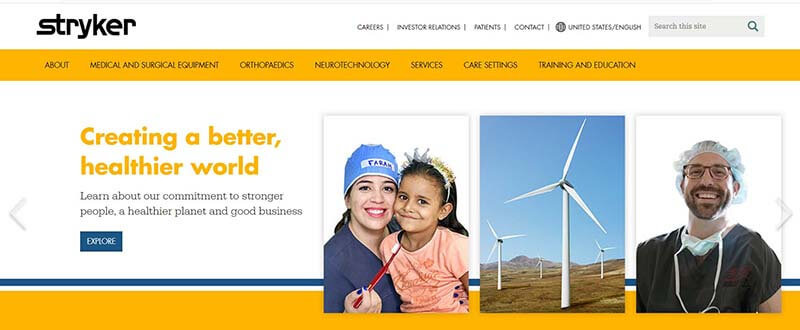 Source: Stryker
Stryker Corporation is a medical device and technology firm that develops and manufactures a wide range of surgical equipment. Endoscopic systems and implants for trauma surgery and joint replacement are among the surgical devices they develop. They also offer a variety of emergency medical equipment, neurosurgical devices, and spinal devices, all of which are in high demand in hospitals and other healthcare settings. Stryker's annual revenue for 2021 was $17.108 billion, 19.21% up from 2020.
8. General Electric

Source: GE
General Electric Company is a global life science and healthcare system company best recognized for producing and distributing cutting-edge medical equipment such as healthcare devices, ultrasound devices, and imaging systems. They also provide a variety of medical diagnostic services on a global scale. They were able to produce more than $74.196B in revenue in 2021.
9. 3M Company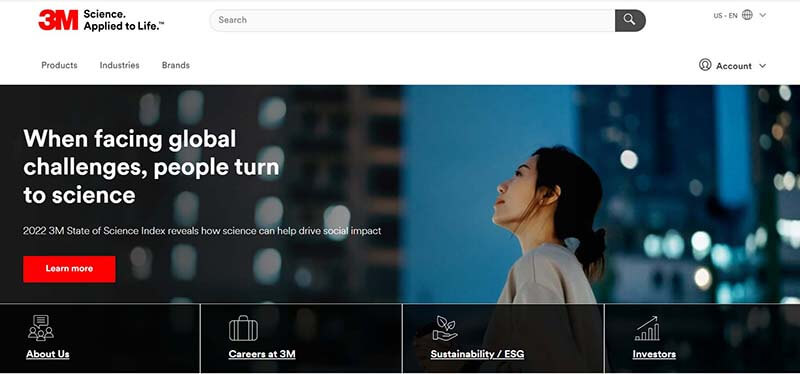 Source: 3M Company
The 3M Company is a worldwide business that engages in a variety of industries, including the medical device industry. Their revenues exceeded $35.355 billion in 2021, allowing them to have a market valuation of over $111 billion. While they create and manufacture a wide range of medical gadgets, their most popular items include health information systems and patient monitoring devices.
10. Fresenius medical care

Source: AMD Global Telemedicine
Fresenius, a German-based international healthcare corporation, also ranks on the list of top medical devices companies. Fresenius Medical Care is a leading provider of renal illness services and products, employing over 300,000 people in over 100 countries. Fresenius Medical Care's sales increased by 2% in 2020, reaching $21.0 billion (€17.9 billion). Despite the pandemic's challenges, Fresenius Medical Care was able to provide more dialysis treatments to patients at home.
Wrap-Up
Here is our list of the top 10 medical device manufacturers that are dominating the market in the present scenario. The global medical device industry has been steadily growing in recent years and is expected to be even stronger in the coming years. Because of the growing aging population with chronic diseases, these industries are more important than ever.