In the present world, there are more options than ever for obtaining healthcare services, with telehealth being one of the most popular. Telehealth, or the practice of providing healthcare services through electronic means, has been around since the 1970s, but it is only recently that it has emerged as one of the fastest-expanding sectors in healthcare. The COVID-19 pandemic pushed the global deployment of telehealth technologies by hospitals and healthcare organizations immensely. In fact, The global telehealth market, which was valued at USD 41 billion in 2021, is now expected to reach USD 224.8 billion by 2030, increasing at a CAGR of 18.8% from 2022 to 2030.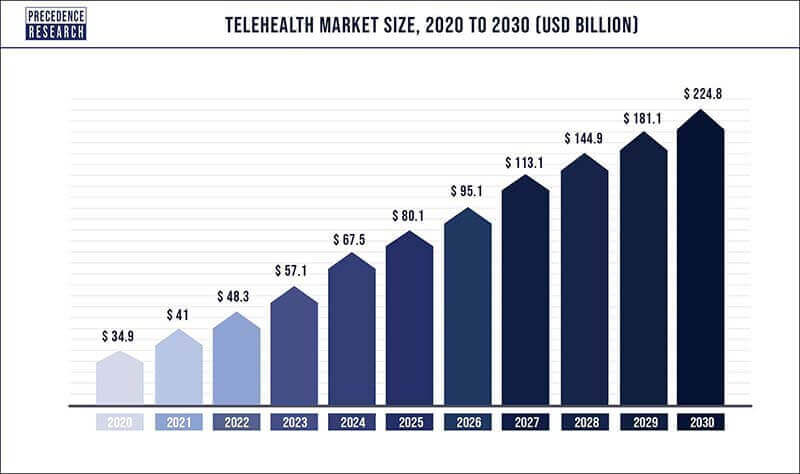 Source: Precedence Research
What is Telehealth – Its Advantages and Disadvantages
Doctors and other health care practitioners typically provide care to patients in a facility such as a clinic, medical office, or hospital. However, because of modern technologies such as computers, smartphones, and other digital innovations, medical personnel may now virtually diagnose, treat, and monitor their patient's health. This is usually termed Telehealth services.
Telehealth is defined broadly as the delivery of healthcare services at a distance using technology. It might range from performing medical visits via computer to monitor vital signs remotely. Its definition is more extensive than that of telemedicine, which exclusively incorporates remote health care delivery. Telehealth also includes medical professional training and continuous education.
Advantages of Telehealth
Using technology to offer healthcare has numerous advantages, including cost savings, convenience, and the potential to provide care to persons with mobility issues or those living in rural locations who do not have access to a local physician or clinic. Because of these factors, the usage of telehealth has increased dramatically over the last decade. Currently, 76% of hospitals in the United States use telehealth to connect doctors and patients remotely, up from 35% a decade ago.
Disadvantages of Telehealth
Telehealth is a convenient and cost-effective option to see your doctor without leaving your house, but it has a few drawbacks. This includes:
Every type of visit cannot be performed remotely. You must still visit the office for imaging tests, blood work, and diagnoses requiring a more hands-on approach.
Concerns have been raised about the security of personal health data transmitted electronically.
During the COVID-19 epidemic, insurance companies are gradually covering the cost of telehealth consultations; nevertheless, some services may not be fully covered, resulting in out-of-pocket payments.
Top 10 Telehealth Companies In The USA
As more individuals become accustomed to using online services, it is now more simple than ever to contact with healthcare specialists via the internet and obtain various types of guidance, assistance, and treatment without leaving the comfort of one's own home. In fact, several successful enterprises have formed their whole business model around offering telehealth services and virtual treatment alternatives to clients all over the world. Here are ten of the world's largest telehealth companies, what they do, and how they're advancing this intriguing field of medicine.
(It is to be noted that the list is in no particular order)
1. Teladoc Health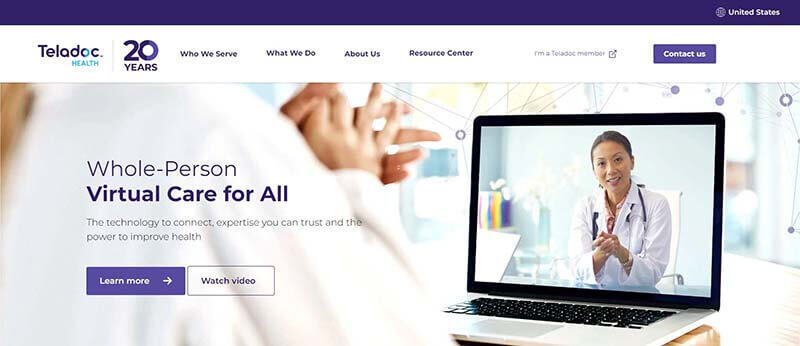 Source: Teladoc Health
Teladoc is a medical technology firm that provides remote access to patient health information to help enhance patient care. Teladoc was established in 2002 and is based in Purchase, New York, USA. The organization offers Teleconsultation and telenursing services in primary care, behavioral health, and specialist sectors. Video conferencing, email consultations, chat messages, text messaging, and automatic reminders are all available through Teladoc's telehealth platform. As of November 2022, Teladoc Health has a market cap of $4.28 Billion.
2. MDLive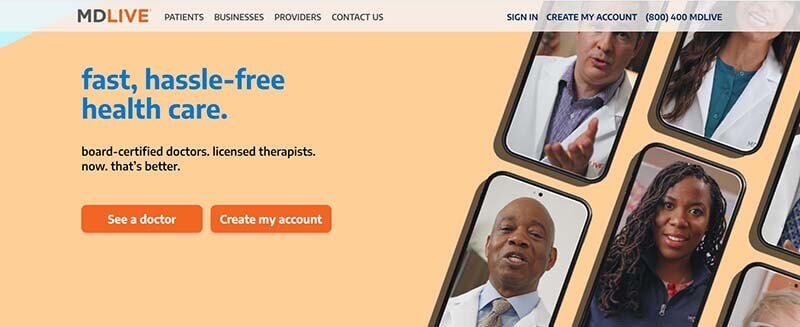 Source: MDLive
MDLive is one of the largest telehealth vendors in America and around the world. They offer on-demand, 24-hour access to board-certified doctors in the United States through phone, video, and mobile app. MDLive also provides a set of tools and services to companies and health plans to assist them in providing better care at a lesser cost. Furthermore, with a 97% member satisfaction rating, they place a major emphasis on client satisfaction. MDLive was established in 2009 and is headquartered in Florida, USA.
3. Doctor on Demand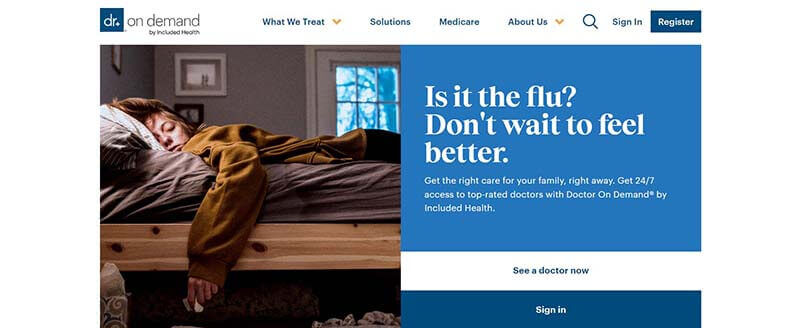 Source: Doctor on Demand
Doctor on Demand is a telehealth company that offers video chat access to doctors on demand. The company was established in 2012 in San Francisco, California. Patients can connect with doctors from anywhere in the world, and the firm has partnerships with some of the leading healthcare organizations in the United States. Doctor On Demand is the simplest and most convenient way to consult with a doctor or psychologist online from your home, using your tablet, computer, or phone.
4. Amwell

Source: Doctor on Demand
Amwell is one of the world's largest telehealth companies. The corporation is headquartered in Boston, Massachusetts, and it serves over 80 million people. Amwell, originally known as American Well, was founded by two brothers, both doctors. They aimed to reduce fundamental healthcare costs while also removing constraints such as time, mobility, and location. Their services are available in all 50 states and cover a wide range of medical needs, including, Primary care, behavioral health, and chronic care management.
5. PlushCare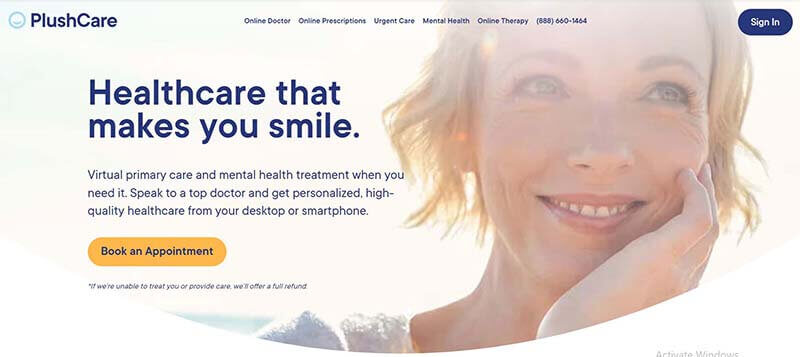 Source: Plushcare
PlushCare is a telehealth service provider that allows patients to consult with doctors over the internet. Over 100 licensed physicians and nurse practitioners work for the organization and give care to patients via video visits. Additionally, PlushCare provides lab tests and prescription services. The company was established in 2013 and is based in San Francisco.
6. HealthTap

Source: HealthTap
HealthTap is a telehealth company based in Mountain View, California, that was founded in 2010. The company's mission is to make healthcare more accessible and inexpensive. Health Tap offers clinicians on-demand access by video chat, phone, or text. Their team comprises over 90,000 professionals and 140+ experts who work in real-time to improve every individual's healthcare.
7. Virtuwell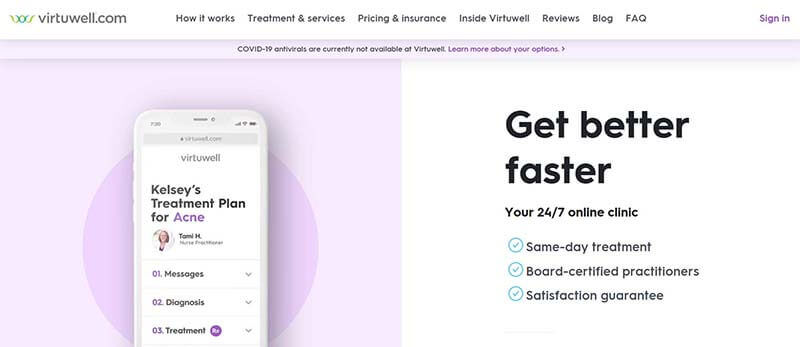 Source: Virtuwell
Virtuwell is a telehealth company based in the United States that offers virtual care services to patients. The company was established in 2010 and is headquartered in Minnesota, USA. Virtuwell provides 24-hour access to a daily health balance system for a low consultation fee. Their doctors and healthcare specialists work in all areas of healthy living impediments, including children's healthcare, cough and allergy treatment, eye and ear care, skin and rash care, and chronic care.
8. United Health Group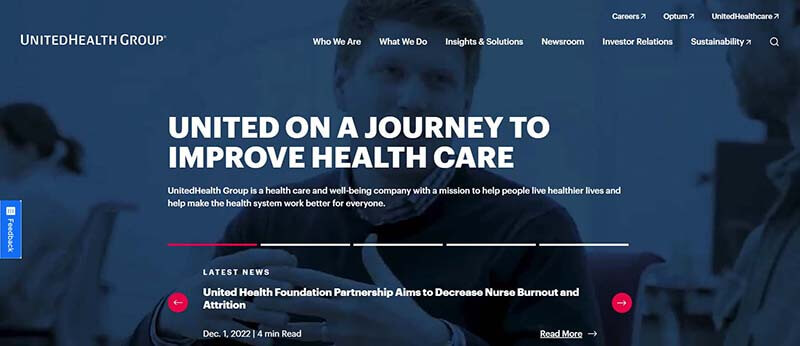 Source: United Health Group
The United Health Group is an international healthcare corporation based in Minnetonka, Minnesota. Richard T. Burke launched the company in January 1977, and it now has over 6,500 sites in the United States and employs over 300,000 people worldwide. The corporation serves over 26 million individuals in the United States and an additional 24 million people globally. Its total revenue is $297.6 billion.
9. Medtronic PLC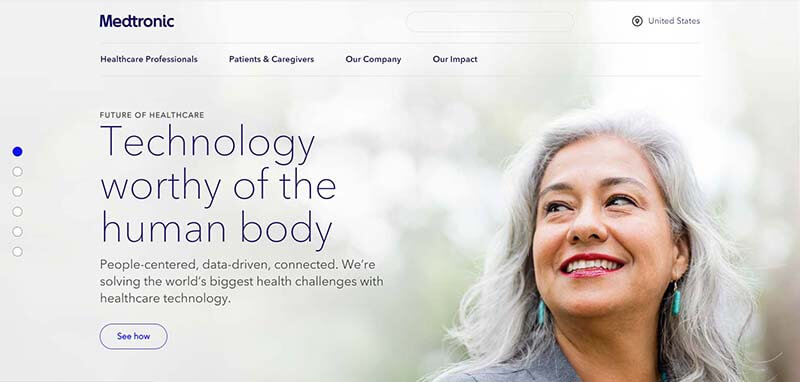 Source: Medtronic
Medtronic PLC, founded in 1949 and based in Minnesota, USA, is a leading provider of medical technology, services, and solutions. The company's primary products are for cardiac rhythm disorders, cardiovascular disease, advanced and general surgical care, respiratory and monitoring solutions, and more. Medtronic introduced telehealth services to its portfolio in August 2013 with the acquisition of the telehealth business Cardiocom.
10. AMD Global Telemedicine, Inc.

Source: AMD Global Telemedicine
AMD Global Telemedicine, Inc., founded in 1991 and headquartered in Massachusetts, USA, provides clinical telemedicine equipment and technology for connecting a patient with a remote healthcare professional or specialist. Carts/systems, specific medical devices/equipment, and encounter management software are all provided by the company to aid the ENTIRE patient interaction experience.
Wrap-Up
For a good reason, the telehealth industry is becoming more widespread in today's society. By making therapy more accessible, the sector hopes to relieve pressure on busy hospitals while simultaneously giving patients quick and convenient healthcare access. While many companies strive to be the dominant force in this industry, some have risen above the rest to make a name for themselves. With more doctors embracing the benefits of remote patient care and the rising demand for it, the list of companies on this list is likely to grow in the coming years.