Electronic health records, also known as EHRs, have become an essential component of a physician's practice and a foundation of the healthcare system. They are no longer only cutting-edge technology. It's a requirement. Ten years ago, approximately 72% of U.S. hospitals used electronic health records (EHR). According to the most recent data from the Office of the National Coordinator for Health Information Technology, EHR adoption has reached 96%. Hence, if you wish to avoid federal fines, provide value-based treatment, and reduce physician fatigue, you should consider deploying an EHR/EMR system. However, choosing the best solution from a plethora of EHR and EMR systems can be taxing. You must assess multiple EHR vendors depending on your specific requirements. As a result, we will look at the top EHR vendors in this article, focusing on those who specialize in either enterprise-wide systems or electronic health records for physician practice offices.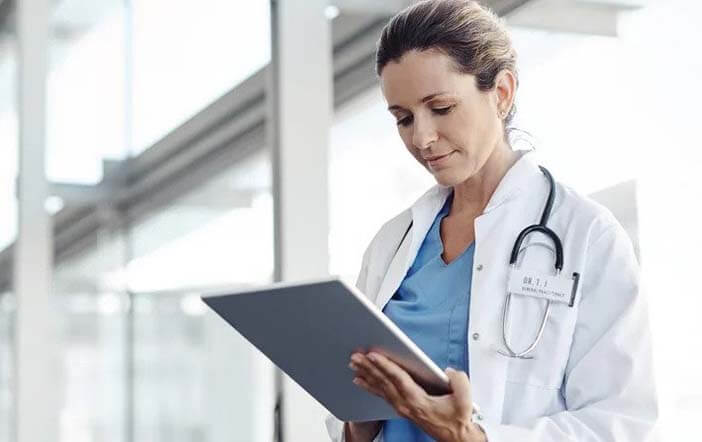 What Is Electronic Healthcare Records ( EHR)?
Simply described, an EHR is a paper chart converted to a digital medium and stored in the cloud or on-premise servers. They have, however, progressed beyond being computerized reproductions of paper documents. They now give you a more comprehensive picture of a patient's health and history. The patient portal allows you to view patients' records in real-time. Medical history, patient interactions, treatment plans, drug vaccination dates, radiological images, allergies, and test findings are all recorded in an EHR.
Furthermore, patient and population health data can be created, shared, and stored in a safe, digital manner. These technologies provide evidence-based decision-making tools while streamlining and automating operational procedures. The American Recovery and Reinvestment Act of 2009 made the use of an EHR a requirement which made the EHR adoption rate of general acute care hospitals rise to 96% between 2019 and 2021. This has resulted in market expansion not only in the U.S., but also in other countries. According to Business Intelligence, the 30 billion USD worldwide EHR industry will grow to more than 38.3 billion USD by 2025.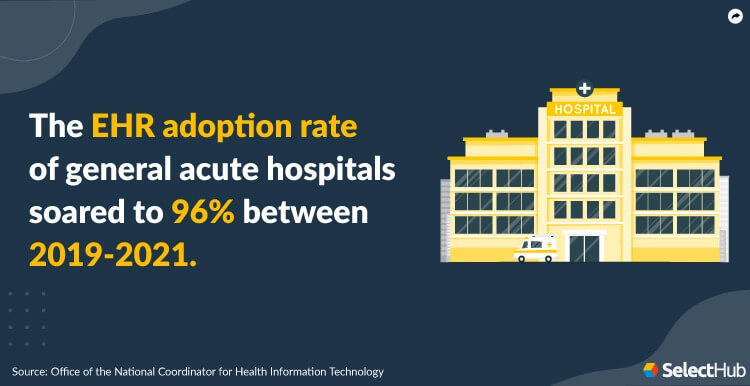 Source: selecthub
Difference Between Ambulatory And Inpatient Ehrs
EHRs assist medical professionals in securely storing and exchanging patient data. When you have the right knowledge, you can create superior treatment plans. EHR solutions can help you reduce medical errors and streamline operational procedures. When it comes to choosing an EHR, you must first identify the nature of your firm. For example, in an ambulatory situation, you may face distinct obstacles than in a hospital setting.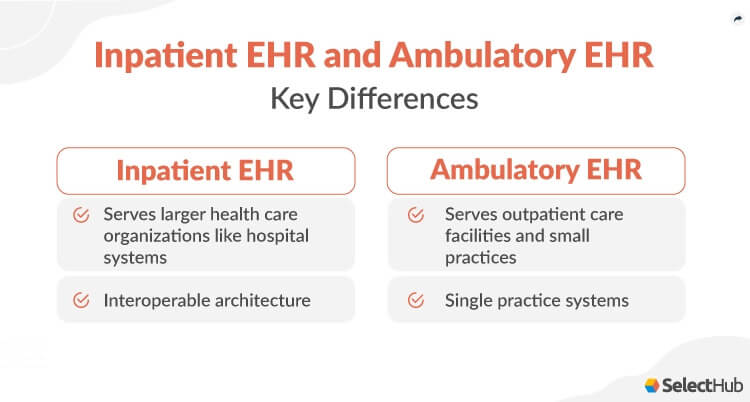 Source: selecthub
Some people believe that inpatient and ambulatory EHRs are the same. However, outpatient and inpatient EHR solutions serve different purposes.
An ambulatory EHR system handles outpatient health care needs such as tracking office visits and refilling prescriptions. Providers can use historical data from these systems to create tailored treatment regimens. E-prescribing is a key element of ambulatory EHR solutions. The market for ambulatory care is rapidly increasing. In fact, the global ambulatory market size is expected to reach $6.6 billion by 2027.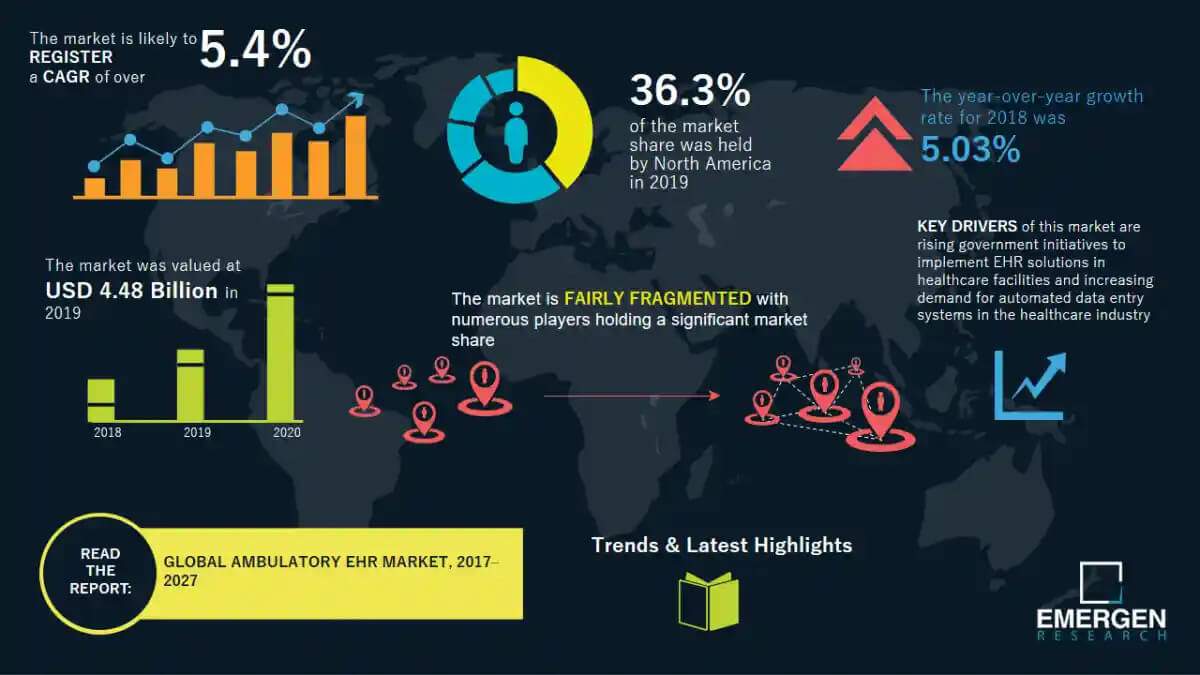 Source: carevoyance
Inpatient EHR systems, however, meet medical needs in hospital settings, such as billing and patient tracking. Because they service numerous departments, they are more complicated. Inpatient EHRs rely on computerized physician order entry modules.
Top 10 EHR Vendors List & Comparison: The Best EHR Vendors For 2022 And Beyond
As the numerous EHR benefits become more apparent to physicians and providers, several powerful and outstanding organizations have emerged as EHR industry leaders, providing excellence in EHR development, deployment, and delivery. Each of these firms offers compelling services; nevertheless, understanding the pros and downsides of each EHR is critical in order to select the best EHR for one's specialty and clinical needs. Choosing the best EHR for your practice is critical for enhancing patient care and increasing clinical efficiency. To assist physicians of all specialties in their selection process, the following is a complete examination of each of the major EHRs, including summaries of each below with detailed insights into each EHR's history, components, and focus.
1. Allscripts
Allscripts Healthcare Solutions was started in 1982 as Medic Computer Systems, but renamed to its current name in 1986, making it one of the industry's most established EHR suppliers. Allscripts offers electronic health record services to a wide range of small and medium-sized clinics, hospitals, and health care providers. Allscripts is the only EHR platform that is not bound to any one manufacturer's goods, making it an appropriate and flexible alternative for many.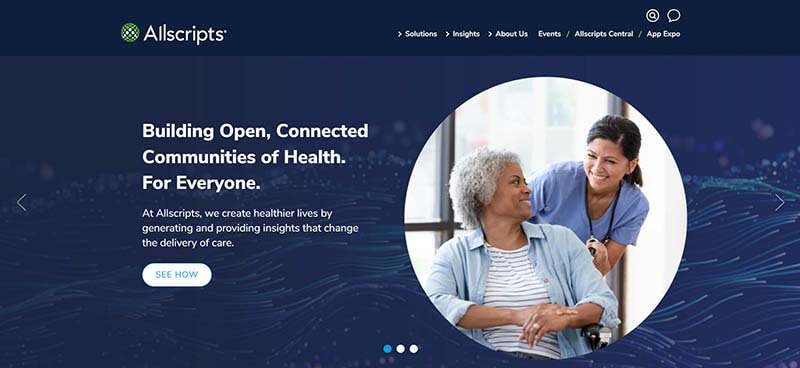 Source: Allscripts
Allscripts provides a variety of cloud-based and mobile-first solutions focused on optimizing time for physician-patient contact and excellent care delivery while enabling charting and reducing tedious administrative activities. Allscripts' distinct EHRs include Sunrise, Paragon, Community Care, TouchWorks, Professional, Practice Fusion, and Avenal.
Reasons to Consider Allscripts HER:
Well-known for making the prescribing procedure easier
Long-standing reputation and extensive experience
There are numerous EHR options tailored to fulfill specific objectives.
Administrative tasks have been streamlined.
A simple dashboard
2. Greenway Health
Greenway Health, founded in 1989, is a privately held provider of Healthcare IT solutions for billing and practice administration, EHR services, and revenue cycle management (RCM). Intergy, Greenway's EHR and practice management platform, focuses on offering users a user-friendly and specialty-focused solution designed exclusively for ambulatory healthcare practices.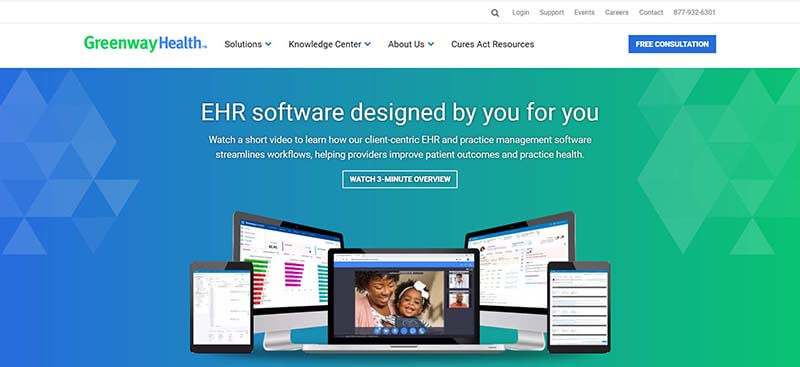 Source: Greenway Health
Greenway is a subscription-based hosted solution focused on addressing common security and infrastructure concerns in health clinics. Greenway also assists their EHR clients by providing technology and cultivating strategic alliances to help promote profitable growth and improve patient healthcare outcomes.
Reasons to buy Intergy EHR:
Automatic patient health reminders
Comprehensive assistance system
Administrative and clinical errors are reduced.
Productivity and efficiency have increased.
Information safety
3. Epic
Epic Organizations is well-known for being one of the earliest providers of electronic health records, and it today supports some of the world's largest healthcare systems. Epic's long-standing reputation and experience, dating back to its founding in 1979, promises easy scalability and effective goods and services. The company has expanded through time to serve primarily small and mid-sized clinics, but their services are also used across entire healthcare communities, children's organizations, and integrated delivery networks.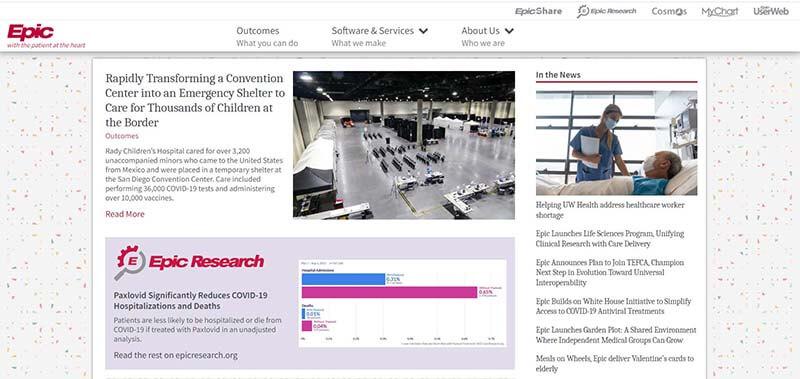 Source: Epic
Epic is a cloud-based EHR that is scalable and cost-effective for keeping patient health records securely in line with HIPAA rules. Epic uses a standard set of dependable EHR features, such as template-based data entry, order administration, and electronic communication and connectivity, while also offering a variety of third-party apps to adjust to the demands of individual specialties.
Reasons to choose Epic EHR:
long-standing reputation,
dependable interoperability
Third-party applications tailored to a specific
Cloud host system
A user interface that is packed with shortcuts, templates, and clever words.
4. Praxis EMR
Praxis EMR, founded in 1989 and widely regarded as the best EHR system for small and mid-sized practices, is an award-winning EHR system that serves thousands of physicians across the U.S. and worldwide. The system's strategic template-free model, which provides for maximum flexibility and adaptation, reflects Praxis's ardent focus on efficient usability and best user experience. Because of its adaptability, Praxis EMR is likely the best-suited EHR for serving all types of specializations, and it can be found in a variety of uniquely run institutions.

Source: Praxis EMR
Reasons to buy Praxis EHR:
The AI system learns from the user and becomes smarter and faster as it is used more.
The template-free model allows for maximum flexibility and customisation.
Enhances medicinal quality
Revenues are increased by 30-40%.
Offers legal protection
5. GE Healthcare
Since its inception in 1994, GE Healthcare has been delivering electronic medical record services. The GE Centricity EHR platform from GE Healthcare provides a powerful and well-integrated package with scalability and solutions for hospital and clinic operations. Because of its dynamic services and long-standing reputation, GE Centricity EHR is highly sought after, provides a wonderful customer experience, and is a profitable solution.

Source: GE Healthcare
GE Centricity is a cloud-based EHR system that provides quick data entry, easy e-Prescribing, patient summaries, lab connection, and billing administration.
Reasons to select GE Centricity EHR:
Increases scalability through interaction with third-party medical interfaces
increased data input efficiency
The Quality Care dashboard analyzes the quality of care provided.
Collaboration software
Templates that are editable
6. Cerner
Cerner is primarily concerned with health information technology systems and the supply of services to healthcare providers of all sizes and 55 separate specialties. Cerner has been recognized by Forbes magazine as one of the nation's most creative firms and a fantastic employer for fresh graduates, making Cerner a proud leader in EHRs.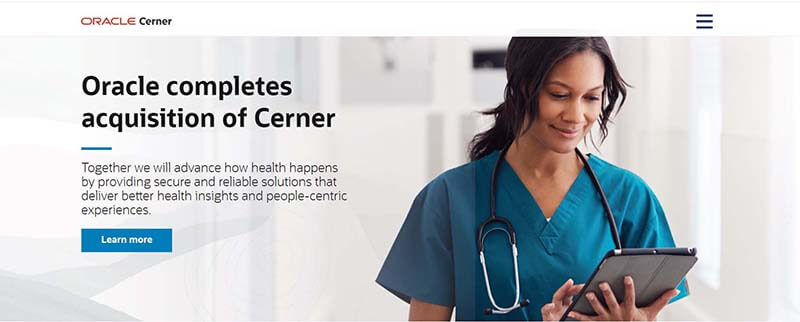 Source: Cerner
Cerner's EHR platform, Millennium, is a fully integrated cloud-based EHR system that covers the care continuum with the goal of improving workflow, organization, and patient care. Cerner's substantial implementation, full-service, and strategic vision support service offerings are among its most compelling selling factors.
Reasons to buy Cerner EHR:
Simple navigation and organization
HIPAA mistakes are avoided.
Transfer of charting data automatically utilizing a variety of input techniques
Third-party app and system integration
Patient access portal
7. DrChrono
DrChrono provides cloud-based solutions to medical practitioners to assist them in streamlining their business operations. It includes modules for practice administration, billing, scheduling, e-prescribing, charting, and revenue cycle management. A centralized database can hold an infinite amount of data. You can also provide approved personnel role-based access permissions to maintain data confidentiality.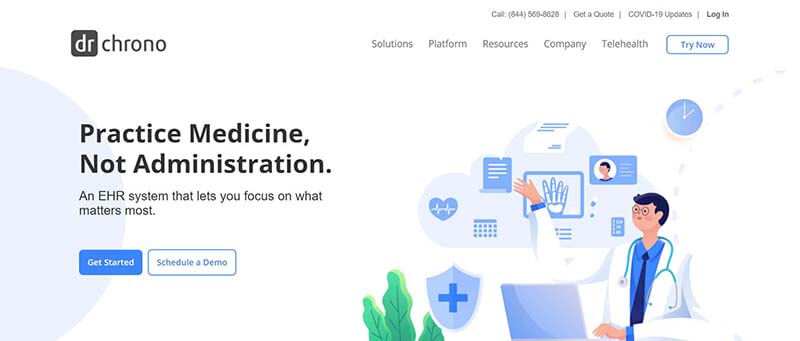 Source: DrChrono
Reasons to Purchase DrChrono:
Electronic Prescriptions
Smart Shortcuts
Appointment Profiles
Telehealth
Charting
8. eClinicalWorks
eClinicalWorks is a cloud-based module designed for medical practices, health centers, urgent care facilities, and hospitals. It offers revenue cycle management, population health, patient engagement, kiosks, analytics, empanelment, telehealth, messenger, pre-visit planning, and care planning solutions for more than 50 specialties. It has ONC Health certification. Interoperability is a feature of eClinicalWorks version 7, allowing users to quickly and easily access patient data from any location and through a variety of applications.

Source: eClinicalWorks
Reasons to buy eClinicalWorks:
Revenue Cycle Management
Population Health Management
Automatically import patient data in the documents section using HL7 messaging.
Send patients pre-visit questionnaires to collect vital indicators in order to provide individualized care.
Virtual Assistant
9. Nextgen
NextGen provides a fully integrated cloud-based EHR system with specialty-specific content, a claims clearing house, and an easy-to-use patient portal, all of which work together to increase productivity, improve financial outcomes, enhance patient satisfaction and experience, and simplify health data communication. NextGen also provides population health management and risk stratification services to assist institutions in identifying and closing gaps, as well as a clinical care solution to reduce unnecessary administrative tasks and focus on physician-patient contact.
Source: Nextgen
Reasons To Select Nextgen:
Creates treatment and solution plans for patients
Designed to increase patient engagement while decreasing administrative overhead
Excellent training and support system
Patient Portal
Services for population health management and risk stratification
10. Athenahealth
Athenahealth provides a cloud-based revenue cycle solution for multi-physician groups and hospitals. Under the RCM offering, they provide a practice management and EHR solution. Athenahealth, a more recent entrant, provides a more modern user interface as well as certain cloud-based capabilities, such as access from any browser.

Source: Athenahealth
Reasons to select Athenahealth:
Patient Engagement
Revenue Cycle Management
Access customizable clinical templates to capture exact patient information.
Telehealth
Wrap-Up
Hopefully, the preceding list may assist in reducing the myriad variables associated with switching or purchasing from an EMR/EHR vendor. Many physicians believe that they contribute to better patient care, but they also acknowledge that present software solutions may be improved. Whatever your motivation for transitioning to a new system, making an informed decision is critical.