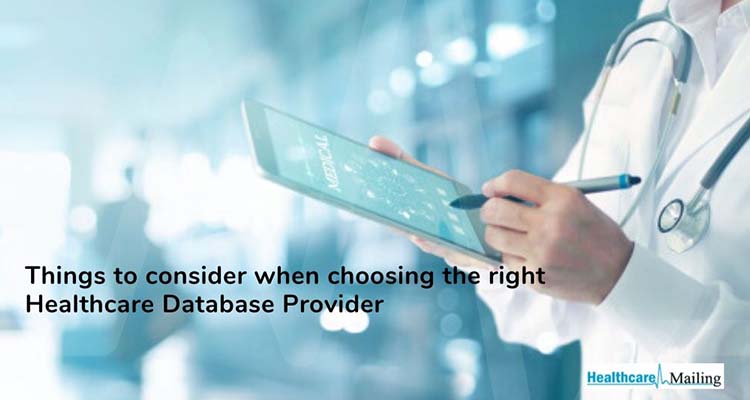 A good database can fuel your company's success and can save you valuable time from searching healthcare contact. Unfortunately, there are not good enough database providers to go around. Also, poor and inaccurate databases result in significant losses in business revenue and customer retention. None of the business even thinks to go through it.
On the other hand, choosing the right healthcare database provider like Healthcare Mailing (A leading and authentic healthcare database provider in the US) can deliver clean, accurate and up to date contacts that can leads to a 25% to 42% high in sales, arming healthcare campaign with huge ROI and revenue gains.
So how will you ensure your contact data is accurate and up-to-date?
Healthcare Mailing made this really simple for marketers to choose the right database provider. Here are the top things companies should consider to check with database providers.
Always Up-to-date Updated Date:-
Healthcare professionals and decision-makers' database changes fast. According to deep analysis from Healthcare Mailing, 10% of healthcare professionals' data will be outdated by the end of the three months.
Here are the few reasons for contact data change:
14% of your target decision-makers will change position
Over 7% of healthcare professionals change their emails
Over 17% of physicians will change their job
This is the top reason your healthcare database needs to get updated in a regular basics to reach your target prospects effectively.
Verified Contact Data:-
The verified data always depend on, How database provider gathered data? How the data is verified? and How they will update the database?
This becomes the most important consideration at the time of identifying your prospects and plans to contact them. With unverified data, you will constantly be left guessing if the contact will pick up the phone and the other end if your email will reach an intended prospect. If your database provided didn't provide verified data, it's time to find a new source.
Segmented Data:-
When your target is the healthcare industry, data segmentation plays a vital role in reaching key decision-makers. A good database provider can able to provide multiple segments as standard. Also, a database should not be measured by a number of contacts they offer, but by segments, they pack into them. This shows you their data collection strength and quality of data segmentation.
Quality of Data affects every aspect of your Healthcare Business:-
The quality of the data is the base for every sale. From the base marketing to top C-level, data quality is a primary need for aiming and to move the healthcare business in a forward direction.
Healthcare marketers need quality data to ensure they targeting convertible leads for sales. Sales need to ensure they're reaching out to the right prospects at the right time with the right message. C-level executives need to know about their foundation of the healthcare business is built on quality and accurate databases that allow them to focus on the growth of their healthcare business.
Conclusion:
Choosing a database provider can be tricky, but when you step forward without knowing your healthcare business requirement and target, it can blow up in your face and extremely affect your business growth. Every data provider in the business can provide you a solution, but it did not mean that the data will fit your business needs. Analyzing your business requirements is extremely important before picking the right database provider.