Getting the attention of overwhelmed healthcare professionals—particularly those who could be interested in your product—is invaluable. However, getting noticed in today's hurried, overstimulated environment is difficult. Healthcare workers employ various medications and medical equipment to save lives. These drugs and medical equipment are essential for healthcare workers who treat patients on a regular basis. However, corporates that supply these medical facilities frequently struggle to locate healthcare experts. As a result, knowing how to track the presence of healthcare professionals in various mediums makes it easier for these B2B marketers to approach them. Time has shifted. Physicians and allied healthcare professionals now embrace new technology that has created new communication and marketing options for firms to contact, teach, or influence their target audiences. Hence, as a b2b marketer, you must change your healthcare marketing tactics to develop meaningful relationships with prospects and current clients.
Why does Healthcare Marketing Need to Change?
Healthcare, in general, has embraced digital technology in a variety of ways, which is one of the reasons why the conventional method by which pharmaceutical and medical corporations communicate with healthcare professionals has drastically declined. It will be beneficial for marketers who develop marketing and communication strategies to understand where and how healthcare professionals want to hear from them to get a higher ROI on marketing spending on campaigns. The never-ending effort to decrease healthcare expenses while utilizing limited resources almost guarantees that the folks you're attempting to contact are preoccupied. According to a Physicians Foundation poll, more than 80% of US physicians are "at maximum capacity or overworked." Moreover, Time constraints aren't the only issue. You must also evaluate how healthcare professionals are engaging with your marketing activities. With the advancement of technologies and online business, many healthcare professionals are now utilizing modern technologies to enhance their productivity and patient experience.
How to Connect with Top Healthcare Professionals in the U.S Like Never Before
The market today presents challenges for even the most skilled healthcare marketer. With that said, there are just as many new opportunities to connect with customers as ever. Here are our 5 top tactics to reach top Healthcare Practitioners in the US.
1. Email Marketing Campaigns
Email marketing is among the most effective ways to reach a huge audience in the most cost-effective and profitable way. It has become an unavoidable communication channel for disseminating educational materials, healthcare professional information, industry news about new medical products and equipment, notifications about special workshops and medical programs, and so on. According to statistics, 77% of marketers have noticed an increase in email interaction in the last year. In addition, 64% of small firms utilize email marketing to reach out to customers. 41.5% of brands say that Email marketing is highly important to business success, compared to 78% in 2020. Hence, email marketing still remains the most cost-effective marketing channel even today.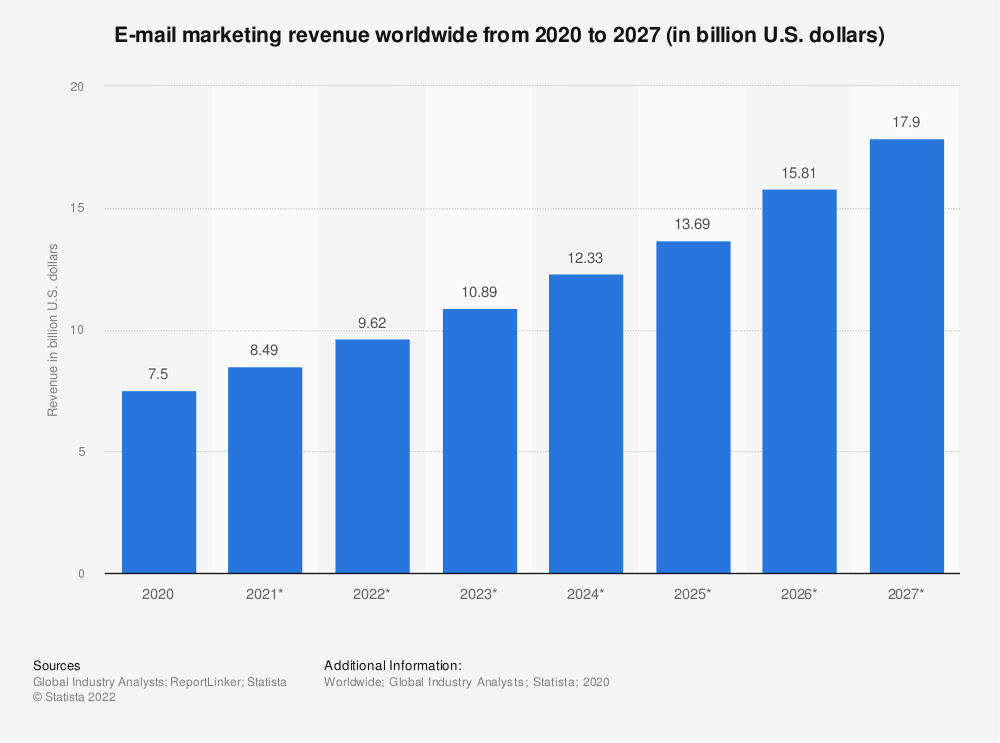 Source: Hubspot
2. A Segmented Healthcare Email List
Having said email marketing is the most cost-effective marketing channel. However, to fully utilize email marketing to its full potential, you'll require a segmented healthcare email list that can channel your email marketing campaigns with accurate information. Marketers should segment their email lists, enable real-time personalization, establish a workflow, and generate tailored email campaigns to gain the best results. Database vendors who provide multisource targeted email lists can also assist pharmaceutical and medical marketers in getting the desired information. A segmented email list will allow you to achieve the following benefits:
Here are three ways you can encrypt patient information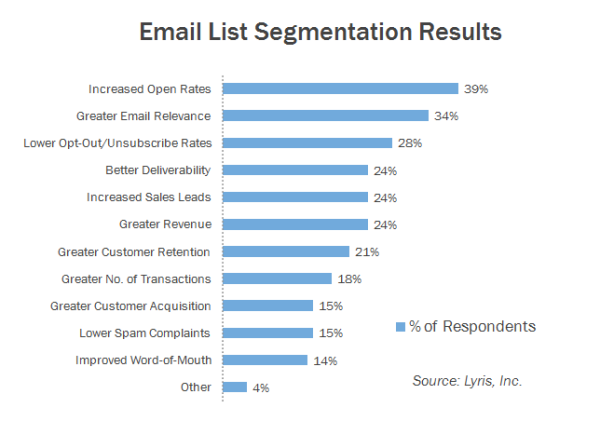 Source: email on acid
3. Direct Mail Campaigns
Although digital marketing has grown in popularity and can be an effective addition, the tried and true direct mail still builds trust, making it an obvious choice for the healthcare industry. While face-to-face encounters used to be the core of medical marketing, getting through the doors is becoming increasingly challenging. A great direct mail campaign can not only help you develop the connection you need to build a long-term relationship, but it may also be able to help you close transactions without the need for facetime. Furthermore, Direct mail open rates can reach up to as high as 90%, which helps you in increasing your brand reputation. In addition, 62% of consumers who showed an interest to direct mail in the past 3 months made a purchase. So, to sum it up, Direct mail campaigns are still effective.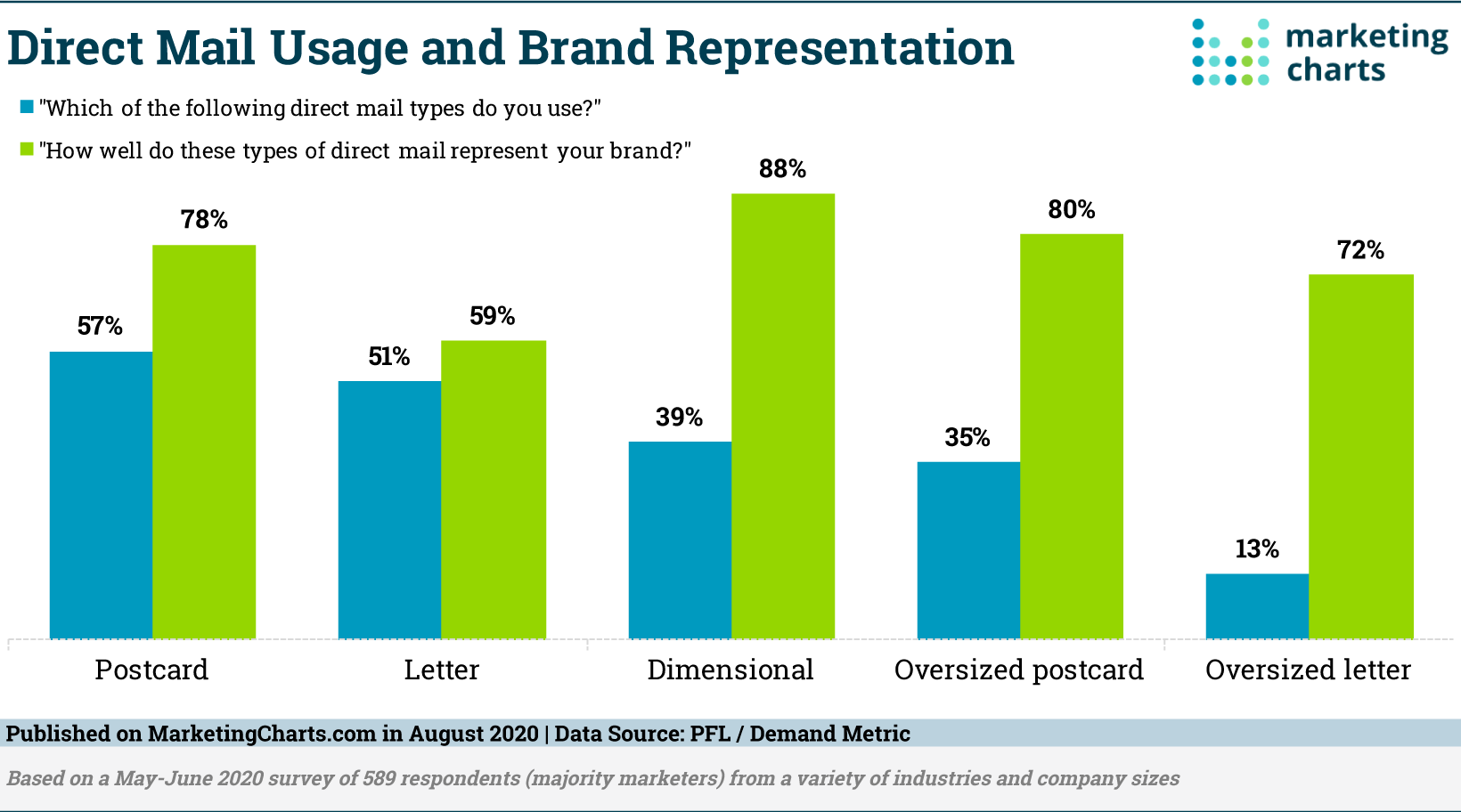 Source: Marketingcharts
Consider the following techniques when planning a direct mail campaign:
Stand Out
Medical offices frequently receive a large amount of correspondence to ensure patient privacy in plain white envelopes. Using brilliant colors, eye-catching imagery, and a variety of paper weights and sizes will help your mailing stand out and enhance open rates.
Personalized Messages
Catering the message to the recipient's practice can help you form a stronger connection and assist the provider in realizing how your product or service will directly benefit them.
Use Data
Since medicine is evidence-based and data-driven, it should not be surprising that practices and providers prefer to see facts and figures to back up your assertions. Incorporating genuine, trustworthy data can be quite persuasive.
4. Social Media Campaigns
More and more healthcare workers are turning to social networking platforms for collaboration with peers, continuous education, conference coordination, and direct communication with Healthcare Companies. When used appropriately, social media may help marketers generate awareness, leads, followers, product views, purchases, and more. According to the most recent social media statistics, there will be 4.59 billion social media users globally in 2022, and this figure will only expand in the next few years. That translates to around 57.5% of the present global population. Facebook, Instagram, and Twitter are some of the major platforms for successful ad campaigns. In fact, Facebook is still the most popular social media platform. In the United States, two-thirds of respondents (69%) say they are Facebook users.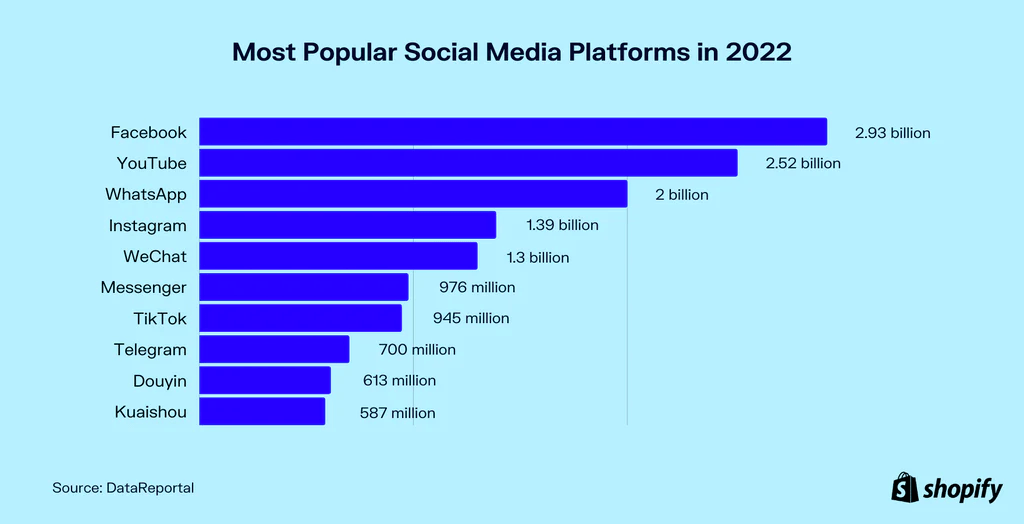 Source: Shopify
In South Texas, 366 healthcare workers were polled anonymously on 35 questions. Of the 97% who reported owning electronic devices, 87.9% said they used social media. These healthcare workers said they spend around an hour a day on social media. Healthcare personnel under the age of 40 were more involved in social media than those over the age of 40. The use of social media by physicians and nurses was found to be identical (88% for each group), and both groups encouraged their patients to use social media to study their clinical issues. So, we can say the least that healthcare providers are quite active on social media, opening up a plethora of opportunities for medical marketers to reach them.
5. Visual media campaigns
Videos have become an integral part of content marketing. Today, more and more videos are being seen than ever before. Videos are being used extensively across all platforms to share everything from general awareness to the most recent advances in the area. Audiovisual material increases the readability of any marketing effort significantly. It also has the ability to reach out to healthcare professionals across geographical and cultural boundaries.
The utilization of visual aids in content increases year after year. Looking back at previous years' reports from 2018 and 2019, you may notice that the majority of respondents stated that more than 71% of their material used visual content (videos & images). This figure grew to 91-100% in 2020 and 2021. A close-up look at the data shows that content is more visual than ever before: 51.4% of respondents stated that 91-100% of their content had visuals. This was an increase from 2020, when 46.5% of respondents stated that 91-100% of their content used visuals.
Take a look at the below images to know some of the key visual content statistics:
Source: Infosecinstitute
Wrap-Up
Healthcare marketing is complicated and fast-paced. However, there have never been so many tools available to help you contact the right individuals at the right time with the appropriate message. So give the tactics above a shot and use them in your organization to make digital and traditional marketing approaches work together to deliver the right message to time-pressed healthcare prospects. By employing these channels, marketers can construct unified healthcare marketing plans to reach healthcare professionals effectively.