The medical supply market has risen tremendously in recent years. By 2027, the international medical supply sector is expected to be worth $163.5 billion. Regardless, there is fierce rivalry, and medical supply companies of all sizes face numerous hurdles. A comprehensive medical supply marketing strategy is thus required if your company is to attract new clients, increase revenue, and be successful.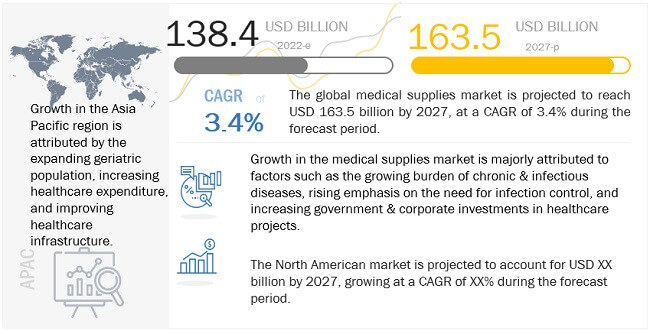 Source: Markets and Markets
As a result, we've prepared a list of the top 5 tactics for identifying your target buyers for further business sales.
The Medical Supplies Market, which was worth USD 138.96 billion in 2021, is predicted to grow to USD 192.95 billion by 2028, with a CAGR of 4.8% from 2022 to 2028. The increased frequency of large- and small-scale problems caused by environmental change, chronic diseases, and growing incidences of accidents and injury has resulted in the expansion of the medical supply sector. The rising occurrence of maternity care and surgical infections, as well as hospital-acquired illnesses, is driving increased demand for a variety of medical product supplies to ensure health and sanitation. Furthermore, COVID-19 is predicted to affect the medicinal supply greatly. As the number of procedures increases, so will the demand for surgical gowns, drapes, gloves, procedural kits, and trays.
Why is Identifying Your Target Audience Important?
Knowing who your target audience is, is vital for a variety of reasons. To begin with, it assists in aligning your product design and development with the needs of your client base. The more you understand about your customers and their wants, the more accurately you can market your product.
Second, determining your target audience aids in the development of marketing strategies. When you understand your audience's interests and requirements, as well as which benefits they value, you can create content that answers their issues. This improves the effectiveness of your marketing efforts.
Third, knowing your target audience enables you to choose the most effective means for delivering your marketing initiatives. For example, if you know that a substantial portion of your audience follows a specific brand on Facebook, it may be prudent to post Facebook advertisements targeting this market segment.
5 Key Tactics To Identify Target Buyers For Medical Supply Companies
Many businesses dislike the procedure of repeatedly speaking with cold sales leads. Marketing, at its best, is intended to assist businesses in obtaining better, more qualified leads. Whether through content, social media campaigns, partnerships, or other means, marketing is intended to pre-qualify customers, assisting you in locating those who require your product or service. But how can you effectively market to your target buyer if you don't know who they are?
As a result, below is a list of strategies you can use to determine your target buyers for each product line.
1. Analyze Your Competitors
Learning from your competition is an excellent technique for finding your ideal buyers. Take the time to examine their marketing efforts. Your primary goal is to discover whatever tools and medical equipment marketing methods they employ in order to attract prospects and advertise their items. Who are your competitors aiming for? Who are their current clients? While this gives you a sense of who your audience is, it also gives you an idea of who they aren't. You might be able to identify a niche market that they are ignoring. You'll also be able to see which elements of their business aren't working. Inquire about how you might improve it. Examine their social media channels. Examine who likes their postings and what kind of information gets a lot of attention. Remember that your audience is not a static entity. As the economy, technology, and your firm grow, so will your target audience. While you should avoid stalking your competitors, you should be aware of how they are coping with the changing environment.
2. Conduct Client Interviews and Analyze Your Customer Base
Looking at who already buys your product or service is one of the finest ways to figure out who your target audience is. What is their age, where do they live, and what are their interests? Engaging in social media or distributing customer surveys is a fantastic approach to understanding this. Speak with as many customers as possible. Look for shared characteristics. Find people with similar characteristics and continue to restrict your focus until you clearly know who you can best help.
3. Consider the product's popularity.
The popularity of your items is one of the best techniques to determine your target audience. If you run an online medical supply store and more than 60% of your sales are physician-related items, you've just learned a valuable piece of information about your target audience. Examine your sales and feedback reports to determine which products people prefer and how you can exceed their expectations.
4. Utilize Customer Data
If you already have consumers, you may utilize their information to narrow down your target audience and learn more about who you're marketing to. A customer relationship management system (CRM) can be used to organize and store user data. Names, email addresses, phone numbers, previous purchases, previously viewed items, opened emails, and much more are examples of this data. The more customer data you have, the simpler it will be to identify your target market and improve your campaigns and content.
5. Create Buyer Personas
When determining your target audience, it is critical to establish customer profiles, also known as buyer personas. These profiles contain critical information about your clients, such as purchasing history, age, geography, pain areas, education, income level, lifestyle, and other factors. After you've built a few client profiles, you'll have a better idea of who they are and how your company can meet their demands. You also learn more about their interests, which allows you to continue producing relevant content, goods, and services.
Identify Your Target Audience to Improve Your Marketing
Identifying your target demographic is the first step in creating an efficient marketing plan aimed at your ideal customers. Although target audiences are an excellent tool, marketers should keep in mind that additional opportunities in the healthcare sector may emerge. If a brand needs to rebrand itself, it may connect with a different demographic. There may be further use cases for products that have not yet been addressed. Combining target audiences with analytics tools can assist in identifying and capitalizing on some of these missed opportunities.