The healthcare system has been on a rollercoaster ride over the last year, due to which digital use has increased dramatically. Despite the numerous issues that the healthcare sector faces, it has witnessed incredible advances and developments, particularly in the health IT sector.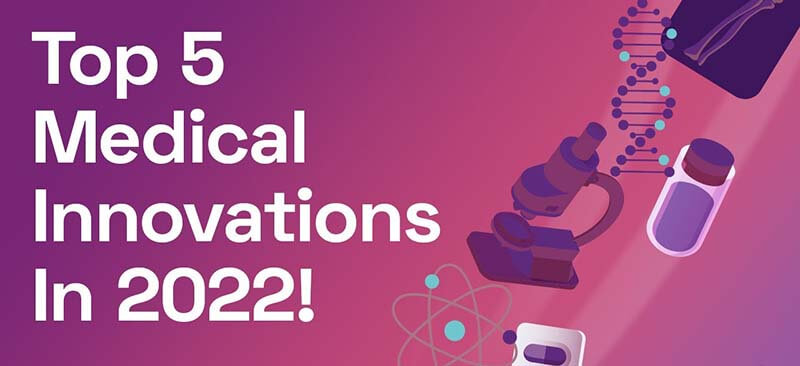 Source: Patreon
Technology is constantly evolving to make processes more efficient and to improve patient experiences and outcomes. It has become crucial for healthcare providers to invest in technological processes and systems. In fact, according to the HIMSS Future of Healthcare Report, 80% of healthcare providers aim to expand their investment in healthcare innovations over the next five years. As a result, Healthcare services and facilities will continue to be revolutionized by technology, allowing professionals to design more cost-effective and preventive solutions for their patients.
What is Healthcare Innovation?
Emerging Healthcare innovations have provided new opportunities for healthcare providers to treat a wide range of diseases and disorders. These technologies enable us to detect diseases sooner, monitor our health more carefully, and take preventive measures to avoid becoming ill or heal faster when we become ill.
Healthcare Innovation is a broad term encompassing technological advancement in the medical industry, which includes gadgets used in medicine for diagnosis, patient care, treatment, and health enhancement. It is used in the healthcare business to connect patient care with technology.
MedTech offers everything from bandages to MRI scanners, dental floss to CT scanners, and wheelchairs to catheters. Biotechnology, pharmaceuticals, in vitro diagnostics laboratories, and pharma/biotech level diagnostics are examples of emerging medical devices.
Benefits Of Emerging Medical Technology
Medical Technologies provide numerous benefits to healthcare providers, leading to improved patient care quality. These devices produce accurate results, allowing clinicians to create a more effective treatment plan. It will help, such as laboratory results and scans, to be error-free, allowing patients to see improved results more quickly. Furthermore, MedTech equipment and devices save time for both clinicians and patients. Procedures can now be carried out with less complicated technology. MedTech also allows for more advanced, less invasive treatment options. According to market report, the global medical equipment market is predicted to improve at a CAGR of 11.5% from $574.46 billion in 2021 to $640.25 billion in 2022.
What Are Some Emerging Technologies In Healthcare?
As the internet and technology advance, numerous health technologies are emerging to benefit both patients and healthcare providers. Here is a list of some of the most cutting-edge medical technologies that are revolutionizing the field of medicine as we know in 2022:
1. Telehealth
Telehealth is a current medical technology that is widely used around the world. It became popular during the recent pandemic when people were forced to stay at home. According to a report by American Well, 22% of physicians had used telehealth to see patients, a 340% increase over 2015, when only 5% of physicians reported using telehealth. However, between 340,000 and 590,000 physicians are predicted to use telehealth services by 2022.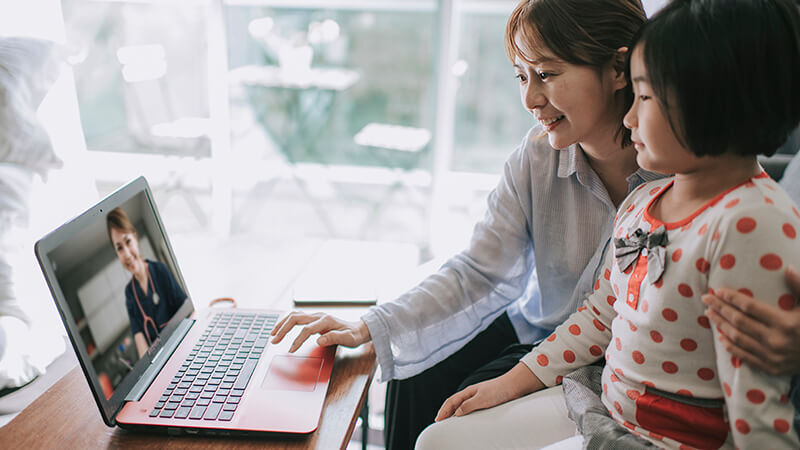 Source: aap.org
With the use of telehealth, you can consult your doctor without leaving your home, which is extremely beneficial for many categories of patients, including the elderly, patients from remote areas, and others. There are numerous telehealth apps on the market right now. You can use these applications to arrange an appointment, consult a doctor, track your medication use, and record your medical information. Furthermore, did you know that around 60% of US individuals over the age of 65 are willing to have their long-term diseases treated digitally? With high demand, the telehealth business is expected to reach a market value of 186 billion dollars.
2. Electronic Healthcare Records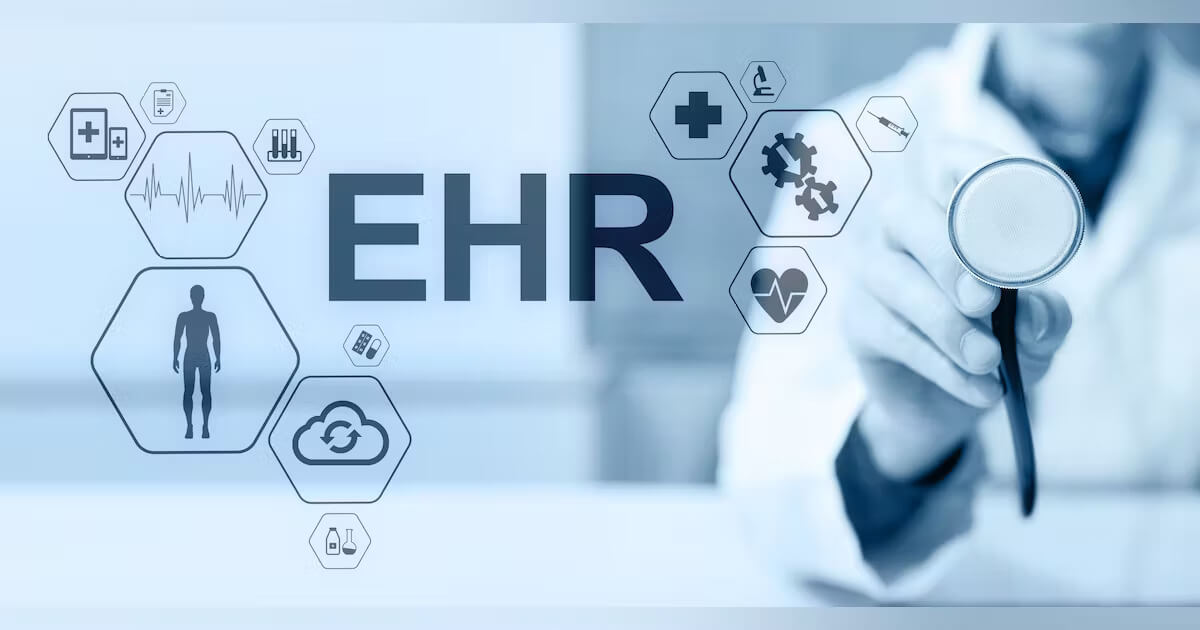 Electronic Health records (EHRs) are computer-based systems that organize and retain medical data. They have gained popularity in recent years because to evidence that they aid in enhancing healthcare quality, reducing medical errors, and boosting the efficiency of healthcare providers. However, because of the high expenses, they are not yet widely used in many healthcare facilities. Healthcare practitioners who use EHRs can benefit from having a single, consolidated patient information database. This makes it easy for physicians to obtain and share patient information. According to a new report by Fact.MR, the electronic health records market is estimated to reach $41.8 billion by 2032, with a market value of $6.78 billion in 2022 and a positive CAGR of 4.5% from 2022 to 2032.
3. Nanomedicine
Nanomedicine is described as the utilization of nanoparticles or nano-objects in the medical business, such as nanorobots or other nanoscale materials. It is extremely useful in cancer treatment and target drug injection. The usage of nanotechnology in the medical profession will only grow in the future years. According to reports, it is expected to be worth more than 125 billion dollars by 2024. Also, Nanomedicine is one of the most promising future medical professions.
4. Artificial Intelligence
The AI-driven transformation in healthcare is one of the most exciting in 2022, and it is becoming increasingly effective at detecting diseases, accurately diagnosing them, and determining them early.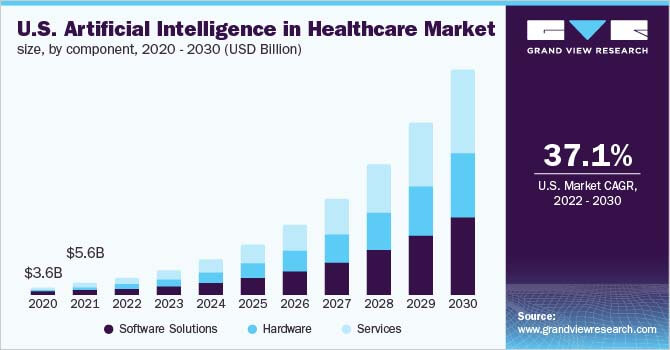 Source: Grand View Research
Physicians can also evaluate Mammograms 30 times faster and with 99% accuracy in breast cancer care, reducing the need for unnecessary biopsies. Furthermore, AI is being used to detect early-stage heart disease, allowing healthcare providers to detect potentially fatal complications at a younger and more treatable stage. Clinicians are also using AI to develop more comprehensive treatment plans, allowing patients to manage their problems better.
5. Virtual reality and Augmented reality
Virtual reality has been used to address a wide range of mental health concerns and challenges in recent years, including stress, anxiety, dementia, and autism. In addition to its usage in treating mental health problems, virtual reality has the ability to alter patients' perceptions of pain. It also allows Medical professionals to travel inside the human body, allowing a panoramic view of their body to help them understand their condition better.
Augmented reality can also work with voice commands; for example, when a surgeon is operating, he can receive messages about other patients and respond with a speech command without disturbing the procedure. AI improves the AR experience, but it requires a lot of software and hardware expertise to produce. However, given the benefits, several organizations are utilizing virtual reality and augmented reality in the healthcare field. The AR and VR market is expected to hit $11.14 billion by 2025.
The Future Of Healthcare
Patients will continue to rely on healthcare companies that employ technology to provide them with the most control over their health. We will discover new ways to care for our bodies as technology advances. Increasing longevity and performance has never been easier, thanks to an evolving healthcare system that is more proactive, personalized, and user-friendly. Nevertheless, these 5 are the best healthcare innovations that will change the face of the healthcare industry.