Many individuals in the public and commercial sectors have worked tirelessly over the last two years to help front-line healthcare workers. With such a severe lack of healthcare workers, it became increasingly difficult to locate suitable healthcare experts to fill these roles. Due to the continued volatility of the worldwide public health scenario in 2022, healthcare staffing companies need to hit the ground running with recruitment.
To increase your chances of hiring top-tier applicants for your openings, we've compiled a list of 5 common data searches you can use to fulfill the current hiring demand. By utilizing these metrics, your medical staffing agency may contribute to the growth of the healthcare industry.
Growing Physician Shortage – How bad is it?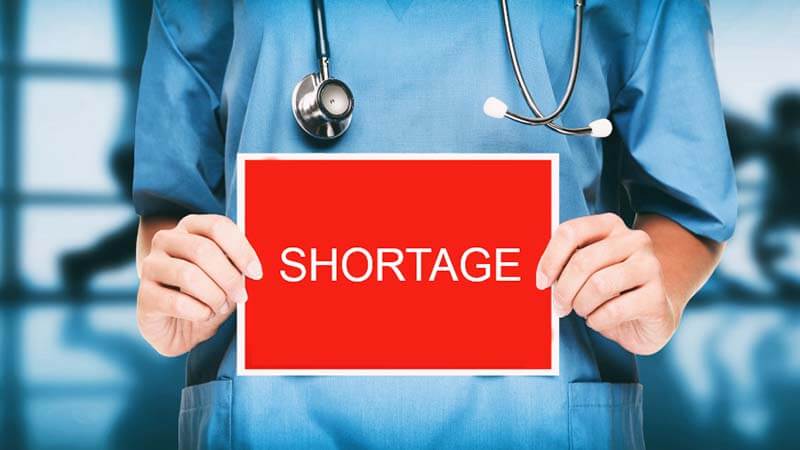 As the United States healthcare system continues to treat COVID-19 patients, the necessity for a robust and sufficient healthcare workforce is more apparent than ever. Specialty physician shortages, particularly among hospital-based specialists such as critical care, emergency medicine, and pulmonary specialists, are particularly pressing. According to new AAMC (Association of American Medical Colleges) research, the United States might face a physician shortage of between 54,100 - 139,000 by 2033, including a shortage in both general and specialty care.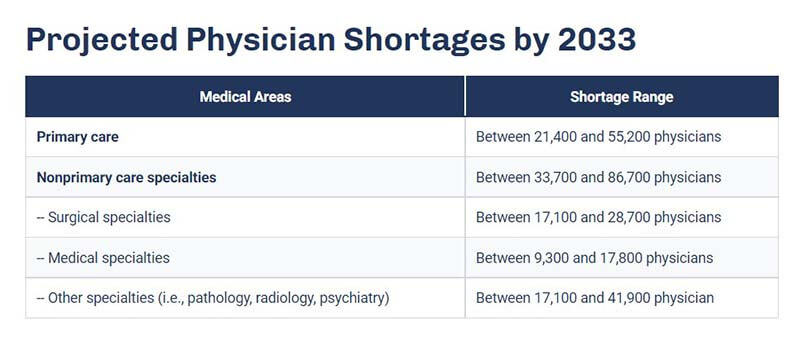 Source: AAMC
5 Most Common Data Searches By Healthcare Staffing Companies
As a result of the high demand for specialized talents and lengthier time-to-fill records, job seekers are getting more selective about the positions they apply for. This made the healthcare job market shift to a candidate-driven model, which means that candidates are more empowered than ever. To deal with this shift in the job market, healthcare staffing organizations must be creative in how they use their recruitment tools. Data is one resource that you can make use of. In this age of rapid technological innovation, when storing and analyzing data has become much easier, Staffing agencies have recognized the value of data in the hiring process. However, to fully utilize the data, you must first understand how it is used. To provide you with insight into frequent tasks performed by your peers and competitors at staffing agencies, we've collated the top five most common data searches by healthcare staffing companies.
1. Job Specialty - Physicians by Specialty
A search for physician applicants by specialty is the most popular data search among healthcare staffing organizations. Gender, Age, Clinical Activity Level, Primary specialization, and other data fields are frequently used. Staffing firms that target people by specialty can fill certain tasks more rapidly. For example, a healthcare staffing agency in California may be looking to fill a post for a Neurosurgeon. In that case, Staffing firms might filter their pool of possible applicants by searching for physicians with a specialty in the nervous system. Staffing firms can then determine which Neurosurgeons are authorized to practice in California. Having access to the right data can make a big difference when it comes to finding and contacting healthcare executives and KOLs. Utilizing reliable sources of information is key when it comes to staying informed and up-to-date on the contacts you need.
2. Key Contacts or Opinion Leaders by Department
Accessing up-to-date contact information is a vital step toward engaging with the relevant hospital executives in a rapidly consolidating sector. Users can find and filter hospital leaders by title, geographic criteria, and hospital data such as hospital type, revenue, EMR vendor, and more. Users find this search useful for identifying the best contacts at facilities for outreach by email, LinkedIn profile, phone, and direct phone number if provided. Staffing organizations may also be able to learn more about the attributes they seek in a candidate. These characteristics may include work history details such as procedure volumes or referrals.
3. Location Based Search for Physicians or Nurses
When it comes to healthcare staffing, one of the most important aspects is making sure you have the right doctors in the right places. That's why location based searches for physicians can be so helpful. With this kind of search, you can narrow down potential doctors by geography, ensuring that you have the best fit for your particular needs. Staffing agencies can target specific physicians based on location anywhere in the U.S. This feature allows healthcare staffing agencies to be more precise and targeted without much effort. Staffing firms that target people by location can help grow the hospital workforce rapidly. For example, if a hospital in Ohio needs physicians urgently, they can utilize this feature to locate the best physicians that are authorized to practice in Ohio. They can also filter it by zip codes or area codes. Location based searches for physicians are an essential part of healthcare staffing, and they can help you quickly find the best fit for your needs. With a few simple searches, you can quickly locate and identify the best possible doctor for your staffing needs.
4. Industry Intelligence – Merging, Acquisitions, etc.
This search allows healthcare staffing agencies to search for a wide range of healthcare sector intelligence, such as hospital collaborations, facility closures, bankruptcy notices, mergers and acquisitions, and People on the move, among other things. When integrated delivery networks (IDNs) merge or acquire new facilities, new job opportunities may arise. In this situation, Staffing firms can capitalize on these opportunities by conducting a news and intelligence search. Healthcare staffing agencies might also look for folks who are on the move. For example, they can be notified when C-level executives accept positions at another healthcare facility. This information can be used by staffing firms to fill open vacancies at the individual's prior workplace.
5. Affiliation
This search is simple and effective, allowing users to easily locate linked facilities such as hospitals, medical groups, clinics, and more by parent IDN. Users find this search useful for strategically identifying market relationships. When staffing for healthcare organizations, it's important to know who their affiliates are. This can be achieved with a simple search based on a parent IDN. With this kind of search, users can quickly and easily locate linked facilities such as hospitals, medical groups, clinics, and more. These facilities can be used to fill staffing needs or even to provide referrals. Additionally, understanding the affiliations between different organizations can help when managing patient referrals, as well as providing access to new business opportunities. In order to maximize the data available to you, you should use a search engine that allows you to easily sort through the results. This way, you can pinpoint exactly what kind of facility you're looking for, and narrow down your search to only the relevant results. In addition, some search engines offer advanced features such as geographical proximity searches that allow you to find affiliated healthcare facilities close to your office or home. Using affiliation searches for staffing needs can save time and resources by limiting searches to only those organizations that are part of the same parent IDN. Furthermore, these searches can also help you to identify new business opportunities in the form of partnership agreements with other healthcare organizations.
Healthcare Hiring Best Practices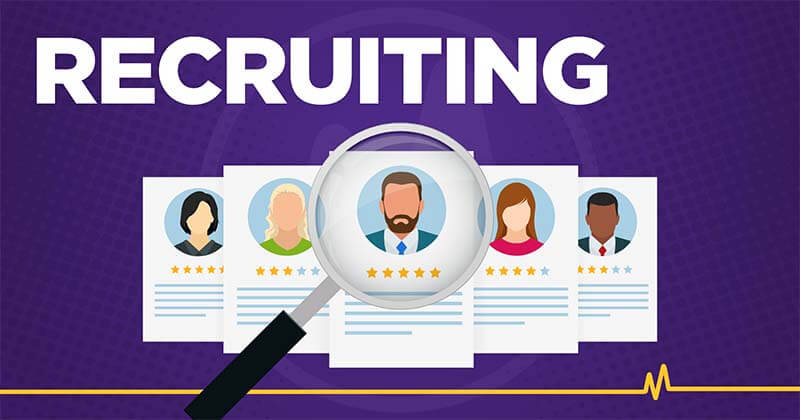 Source: AAMC
Here are a few hiring procedures to put in place in order to attract the correct kind of talent to your team:
Create a strong brand:
68% of candidates are more concerned with the company's brand and ideals than with its products and services. Concentrate on developing a strong brand that demonstrates to prospective employees how you will support them and what they can expect from working with you.
Encourage hiring managers and recruiters to work together:
A positive relationship between recruiters and hiring managers increases the likelihood of all new talent having a prompt and consistent hiring manager interview experience.
Simplify talent acquisition:
Instead of requiring candidates to jump through multiple hoops during the first interview process, make it simple for talent from all walks of life to apply. To ease talent sourcing, consider removing some resume, experience, or CV constraints.
Wrap-Up
Proper data governance, followed by data analysis and adoption, is required to ensure that the data gathered can drive results. With a data-driven recruitment process, staffing firms can gain insights and improve their talent acquisition and retention skills. They can accomplish this by using the previously mentioned common data searches, such as job specialty, location, contact information for KOLs, and others.