The COVID-19 pandemic has transformed the dynamics of the U.S. healthcare value chain. The years 2020 to 2021 were difficult for payers and providers. At the same time, service innovation and growth remained uninterrupted. COVID-19 caught everyone off guard in early 2020. It caused severe problems for healthcare systems all around the world, defying established operational standards, disrupting the medical supply chain, and triggering crucial supply shortages throughout the value chain. According to The American Hospital Association, hospitals and healthcare systems in America have lost over $202.6 billion in income or an average of $50.7 billion every month. Furthermore, over 51% of Americans have reported a loss of work since the pandemic began, and this has risen to 14.7% during the pandemic.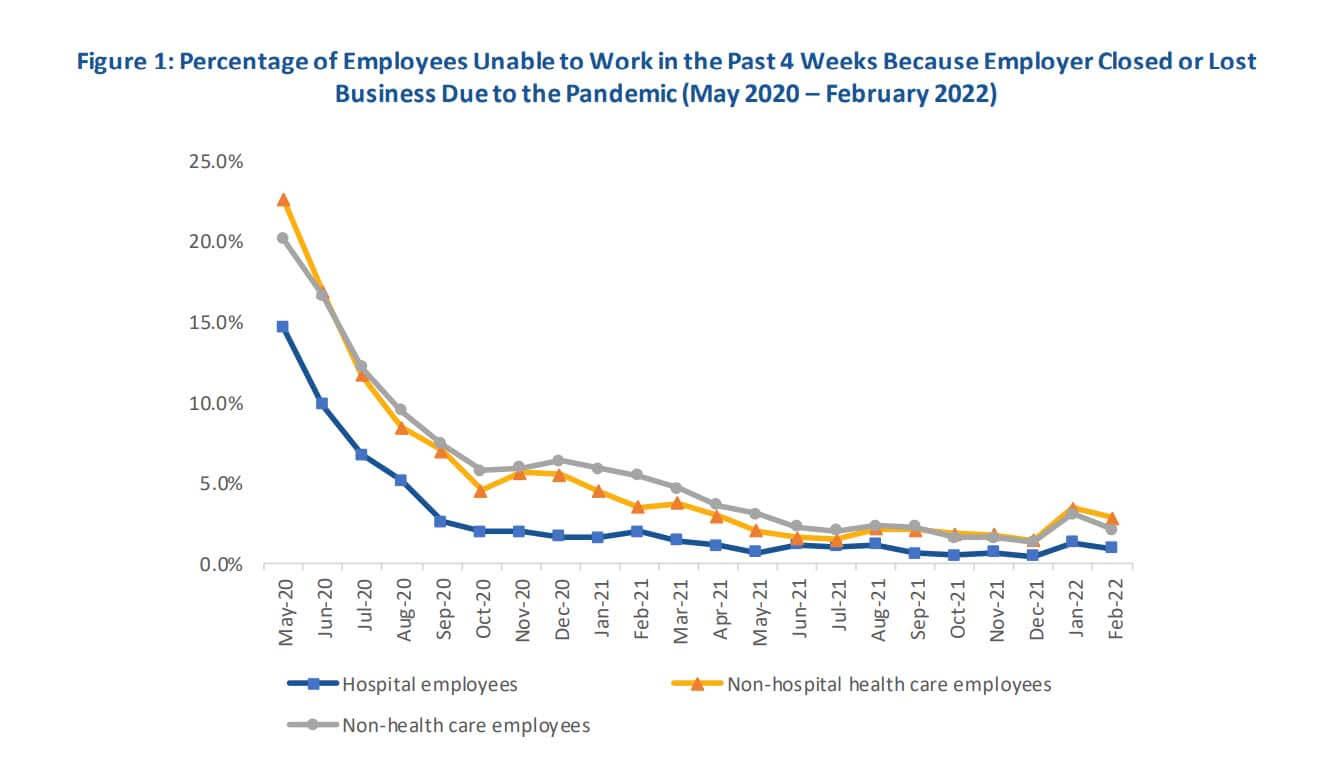 Source: ASPE
Although the pandemic exposed the fragility of public health institutions, the sector has responded with agility around the world, from sequencing the virus to developing vaccines in less than a year, thanks to unprecedented collaboration efforts by all industry players. Healthcare buyers have adopted the new means of the healthcare system and are now becoming accustomed to the changing environment. What started out as a necessity (such as telehealth) is now convenient for healthcare buyers. In this blog, we will be looking at some of the drastic changes brought about by the Pandemic that has become normal in a Post-COVID World.
The Healthcare Industry In a Post-Pandemic World
COVID-19 has performed as a wake-up call for several facets of healthcare systems, particularly their overall preparedness. Public health surveillance programs and available infrastructure have been demonstrated to be inconsistently inadequate. Furthermore, healthcare systems appeared unable to absorb and handle unexpected and persistent constraints on their workload, particularly in acute care settings. Even with contingency preparations in place, healthcare institutions appeared unable to handle the unexpected, severe rise in demand.
The COVID-19 pandemic operates as a catalyst for change in public health measures, hastening their implementation and adoption. As a result, a new form of healthcare delivery evolves, emphasizing preventive measures, remote care, and significant technological reliance. However, these are offset by ongoing technical challenges in meeting surge capacity in laboratory testing, the rapid implementation of new technologies, mental health concerns, ethical concerns about potential rationing of insufficient resources, and the safety of privacy and personal data during times of crisis. Taking the former into consideration, the following components appear to be the most likely to be influenced in the post-COVID-19 era.
New Approach to Healthcare Delivery in a Post-COVID World
1. Increasing the Number of Patients Receiving Remote Care
Remote care or telehealth services have previously been employed in emergencies, crises, and routine care. During the COVID-19 pandemic, their widespread use has increased. Telehealth services are currently used in large-scale screening of patients before their visit and triage assessment, routine home monitoring of patients, remote clinical encounters, and off-site expert supervision of patient care. It is more likely that a significant portion of such services, such as remote monitoring and management of larger numbers of patients, will remain telehealth-based after COVID-19, as it provides greater convenience and better patient-centered care, thereby partially addressing the healthcare system flow rate and capacity challenges.
Telehealth utilization has stabilized at 38X higher levels than prior to the outbreak. Following a jump in utilization to more than 32% of office and outpatient visits via telehealth in April 2020, utilization levels have generally stabilized, ranging from 13 to 17% across all specialties. This utilization represents more than two-thirds of the visits that may be virtualized that we anticipated.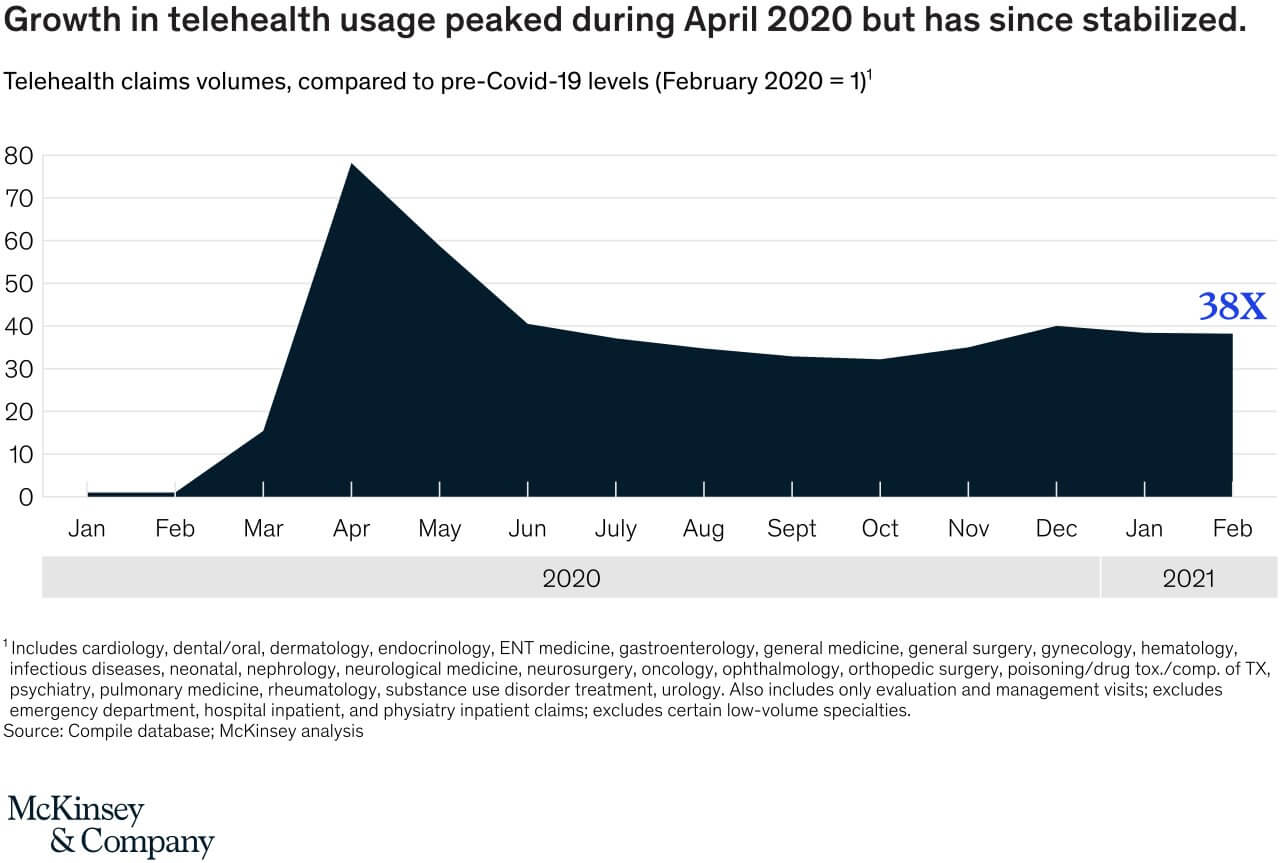 Source: McKinsey & Company
Telehealth has also been observed in mental healthcare, where the pandemic acted as a catalyst for the adoption of online treatment and e-health technologies into routine practice after more than two decades of many great but generally unsuccessful attempts. The field's dominant imperatives, such as "the clinician/patient therapeutic bond can only be developed face-to-face," are being resolved, despite data suggesting the reverse. It is anticipated that once mental healthcare institutions have developed the capability of serving their patients via various digital technologies following COVID-19, there will be little reason for them to give up all of these, given the benefits they have experienced over an extended period of crisis response.
2. Application of artificial intelligence in Healthcare
In recent years, A.I. technology has steadily moved from the laboratory to clinical and public health applications, such as early warning of epidemics and intelligent analysis of large amounts of medical data. A.I. has significantly enhanced our diagnosis, prediction, and treatment level while fighting COVID-19. Through significant clinical case data, A.I. could investigate the epidemiological characteristics, clinical characteristics, and therapeutic effects of COVID-19. A.I. was also utilized to help diagnosis through quantitative computerized analysis of medical imagery. It included the knowledge system of the expert in the model. The analysis's accuracy rose as the number of learning samples grew. As a result, it aided in the identification and treatment of COVID-19 patients.
If we look at the statistics, A.I. has grown significantly Post-COVID. In fact, The global artificial intelligence in the healthcare market was worth USD 10.4 billion in the previous year and is assumed to grow at a CAGR of 38.4% between 2022 and 2030.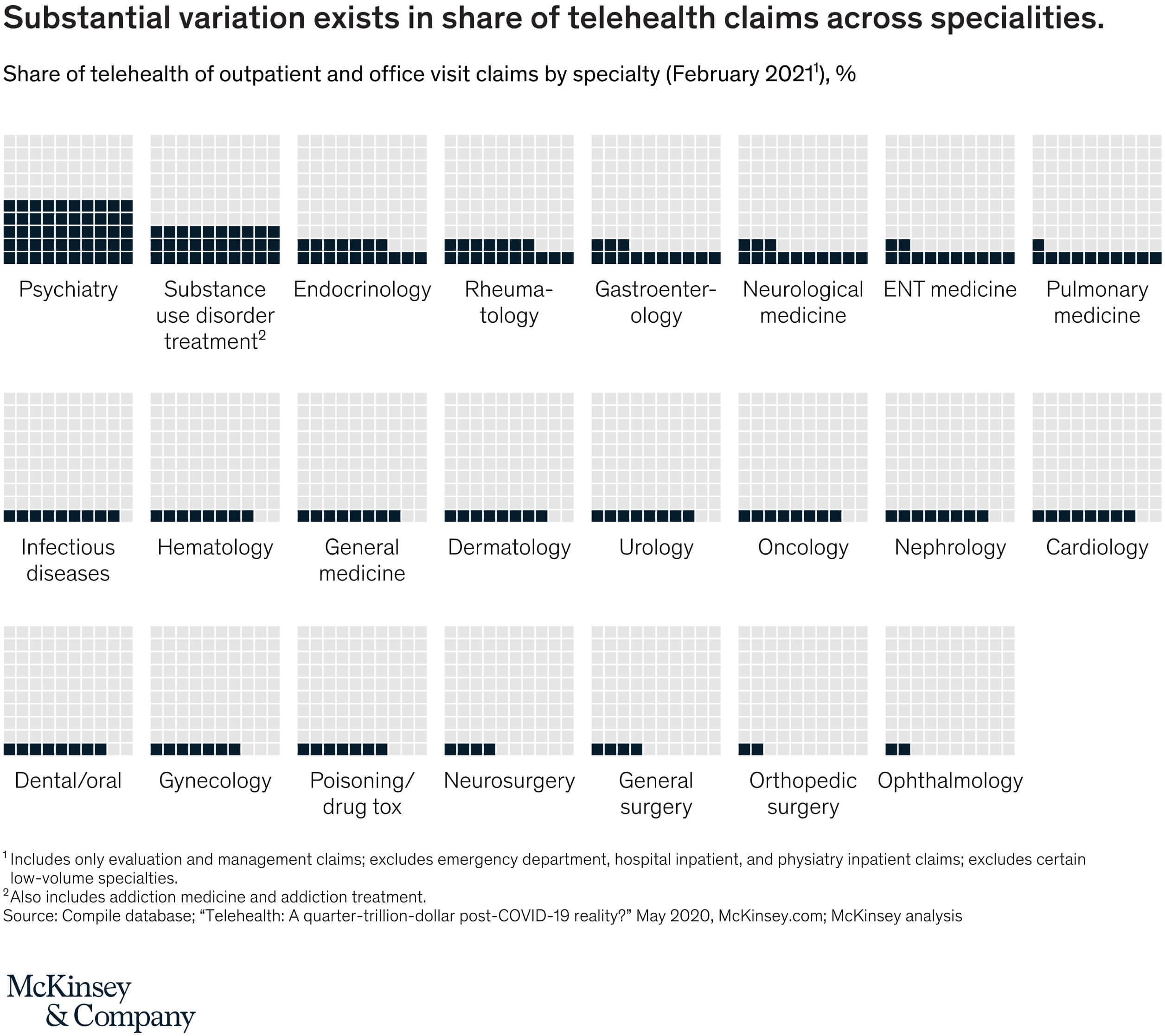 Source: Grand View Research
At the start of the Pandemic, governments and the general public were focused on the following issues: the duration and peak of the COVID-19 Pandemic, the number of infected people, the influencing variables, and the measures to limit infection, among others. Many works were done by a community of applied mathematics, virologists, epidemiologists, and A.I. experts to assist governments in developing appropriate policies in the fight. Take a look at the following image to get a better idea of how A.I. played a part during the pandemic.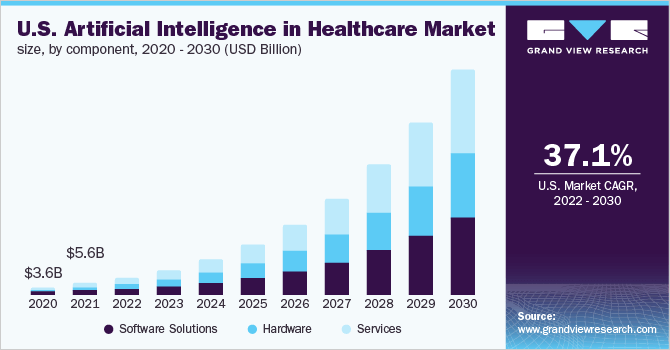 Source: Grand View Research
Without a doubt, Artificial Intelligence is the next big thing in the Healthcare sector, revolutionizing the overall system of healthcare delivery.
3. Fitness wearables
Change begins with raising awareness. Wearables have transformed consumer health by providing people with easy access to their health data. This information can serve as a motivator for people to enhance their overall health and well-being by adjusting their mentality and behavior toward accomplishing health goals. They can also aid in the early diagnosis of potential health issues such as irregular heartbeats or high blood pressure; nevertheless, in such circumstances, a healthcare expert should always be consulted.
COVID-19 has had an unprecedented and astonishing worldwide impact, with fitness trackers experiencing a positive demand shock across all regions due to the epidemic. In 2020, the worldwide fitness tracker market was worth USD 36.34 billion and expanded by 19.5% in the same year. The market is anticipated to increase at a CAGR of 15.4% from $36.34 billion in 2020 to $114.36 billion dollars by 2028. The decrease in CAGR is due to this market's demand and growth, which will return to pre-pandemic levels once the pandemic is gone.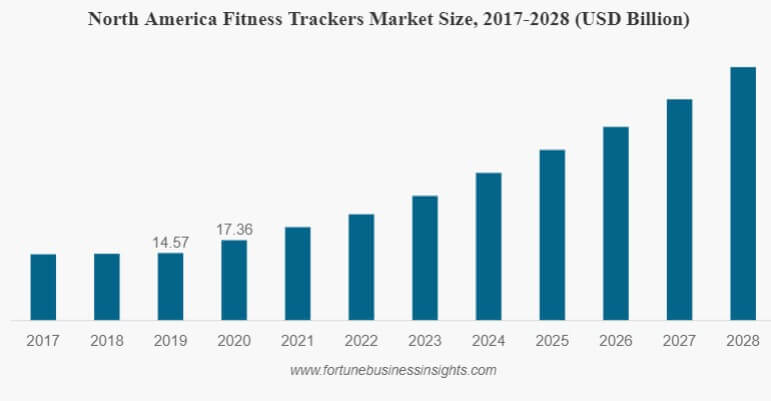 Source: Fortune Business insights
In 2020, North America's global market for fitness trackers was valued at USD 17.36 billion. This region's domination can be attributed to growing concern about health issues, as well as the rise of chronic diseases. In terms of revenue, Europe was second only to the United States. Increasing technological usage, increased acceptance of smart gadgets, and the numerous benefits of fitness monitoring devices are expected to drive demand for fitness monitoring goods. As a result, there are several potentials for fitness-tracking gadgets in the region.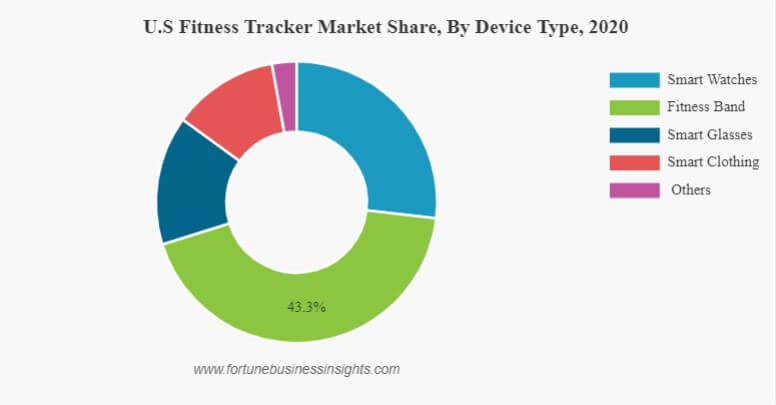 Source: Fortune Business Insights
4. Healthcare buyers are focused on health and hygiene trends
Products that claimed to counteract airborne pollutants like viruses and promote improved hygiene saw rapid growth in the early days of the epidemic. Air cleaning goods increased 34% last year, humidifiers 13%, and dehumidifiers 25%. According to statistics, water filters currently have a 62% online share, a 10% rise from 2019. Under-sink filters increased by 8%, while replacement cartridges for various water filters increased by 20%.
We witnessed the growth of items like air treatment systems during the early months of the pandemic because of the focus and marketing on how these devices could help tackle viruses in the air and clean the air you breathe. Given that COVID-19 was claimed to be airborne, people purchased a large number of these goods in the hope that it would keep some allergies at bay. Recognizing this trend, brands updated their messaging and expanded their product lines. They also took advantage of secondary data. Nevertheless, The epidemic made customers aware of how beneficial these goods may be, acting as a spur for their expansion. Consumers are becoming more aware of health issues and how to tackle them by utilizing technology on a daily basis.
Wrap-Up
Despite the fact that the epidemic has been in the U.S for more than two years, it is apparent that COVID-19 is not going away. COVID-19 will undoubtedly have long-term consequences for the healthcare industry. It will serve as a reminder that proactive healthcare emergency preparation, as well as an increased commitment to global public health preparedness, are still required. Lessons acquired about the limitations of current healthcare systems and their ability to respond to infectious disease outbreaks in the twenty-first century should be examined, allowing for the transformation of future healthcare. Furthermore, the awareness that technologically enabled solutions can be implemented and perform well-should serve as a model for further integration of such technology into normal healthcare design and provision.