We often hear the term "evidence-based practice," or EBP, in the context of modern healthcare. Evidence-based clinical practice guidelines are effective for optimizing health care by implementing credible suggestions for specific illnesses. They guide decision-makers and health professionals in clinically unclear areas through evidence-based recommendations that weigh the risks and benefits and offer a critical assessment of established and emerging technologies. Evidence-based practice is a procedure that includes the use of research, clinical knowledge, and understanding of the particular requirements of patients. Clinical practice recommendations are concrete examples of a setting that supports evidence-based practice. Guidelines must be created and evaluated using research, and their implementation must be tailored to the specific organization's needs.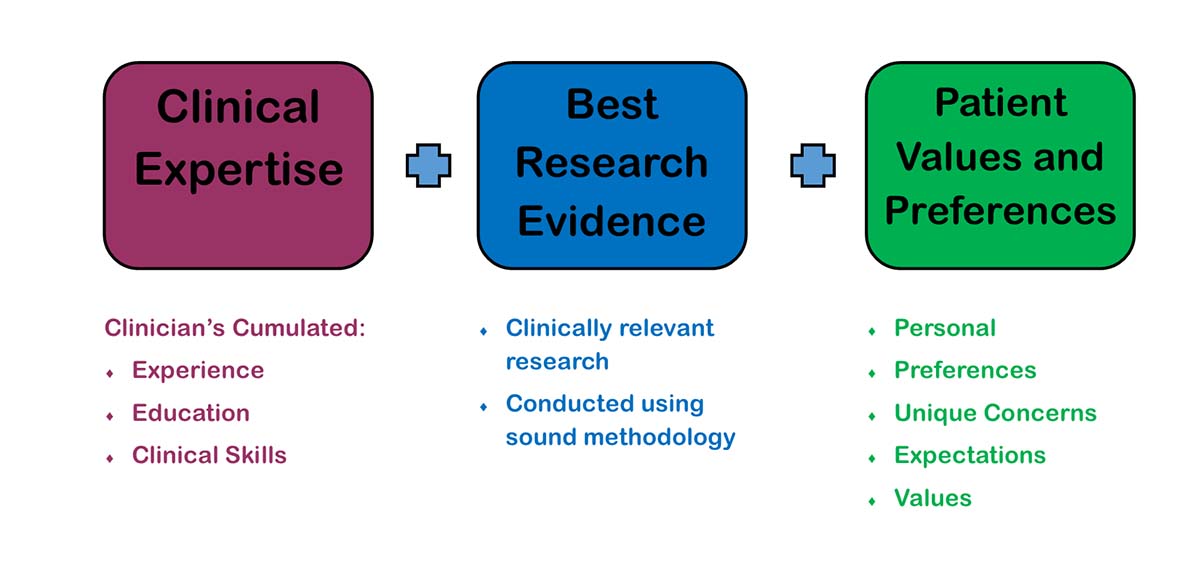 Source: Researchguides
Evidence-based clinical practice - the definition
Applying or interpreting research findings in routine patient care procedures and clinical decision-making is known as evidence-based practice (EBP). EBP also considers each patient's needs and preferences while combining the best available evidence with clinical knowledge and expertise. The best patient outcomes are more likely to be attained if applied consistently.
Utilizing EBP entails giving up antiquated techniques of providing treatment in favor of practical, empirically supported approaches to address each patient's requirements. EBP practitioners must be adept at determining the relevance of studies to their particular patient population.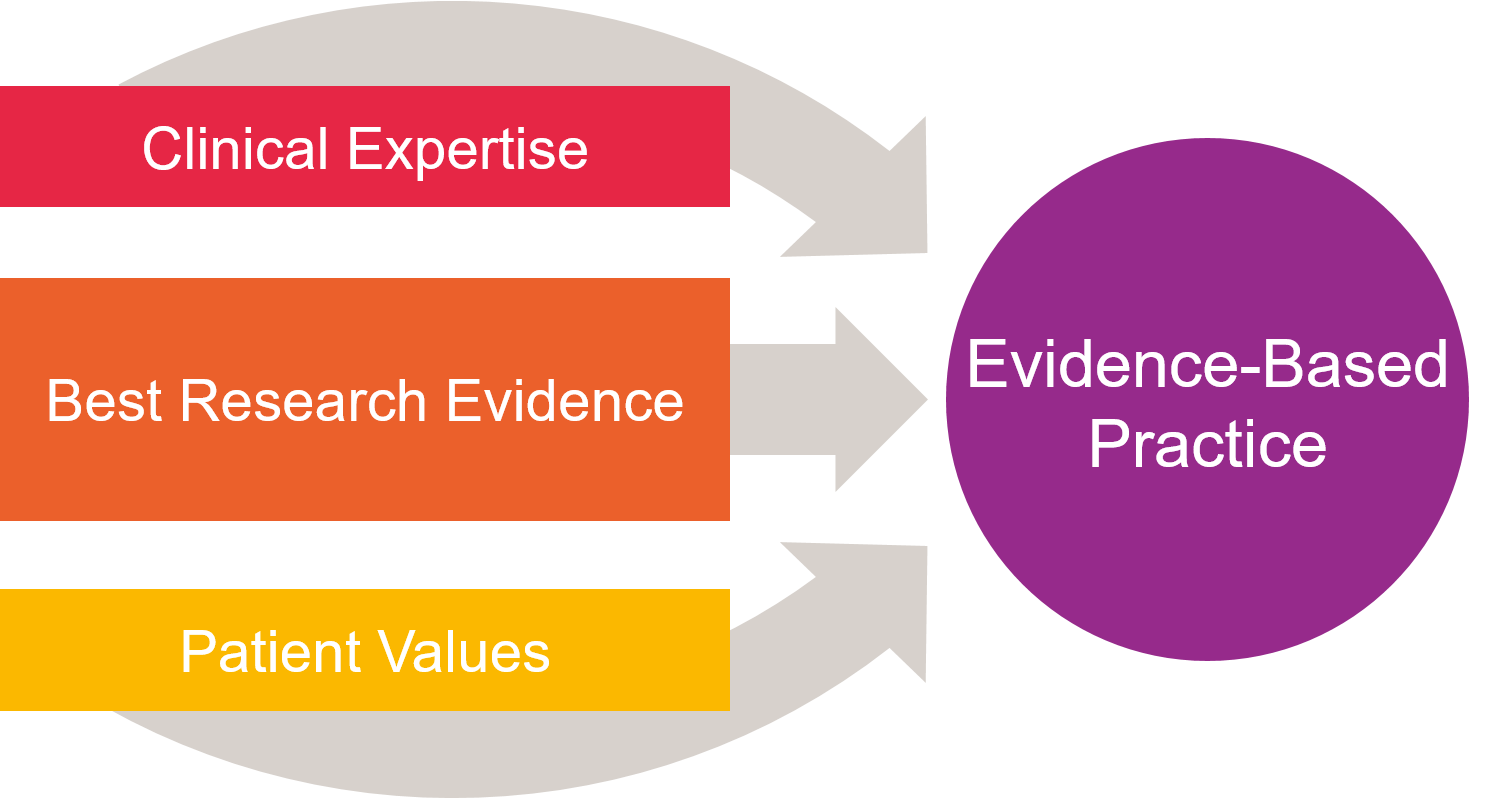 Source: Guides.ibrary
EBP has evolved to incorporate the most recent research findings, clinical knowledge, the patient's unique values and circumstances, and the health professional's practice features. Therefore, using evidence-based practice (EBP) involves more than just applying the best available research evidence to your decision-making; it also involves using your experience, skills, and training as a health professional, as well as taking into account the situation and values of the patient (such as social support and financial situation) and the practice context (such as limited funding) in which you are working. Clinical reasoning is the process of integrating all of this data. EBP is when you consider each of these factors in a way that enables you to decide how to treat a patient.
In what ways is evidence-based practice significant?
EBP is significant because it tries to deliver the best care possible to enhance patient outcomes. Based on current research, patients anticipate receiving the most effective care. EBP encourages a questioning mindset among healthcare practitioners and prompts us to ask ourselves, "Why am I doing this way?" Exists data that could help me perform this task more successfully? As health professionals, we must ensure that the greatest available research supports our practice to deliver a professional service. EBP also contributes to the prudent use of limited health resources and considering pertinent data when making funding decisions.
Application of EBP in practical practice
It would not be easy to evaluate all of the evidence that is currently available on a topic. Fortunately, various EBP procedures have been created to assist healthcare professionals in implementing EBP in the workplace.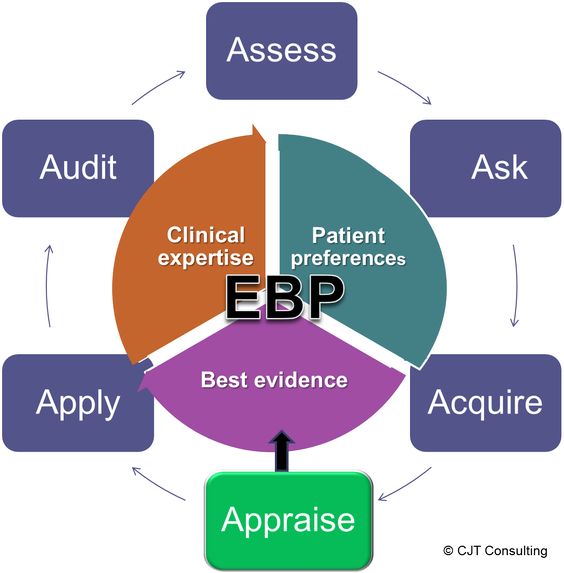 Source: Nursingeducationexpert
These six steps comprise the most typical process:
Ask- Are there any aspects of your clinical environment you are curious about? Maybe you're trying to figure out if a new intervention is better than the one employed right now. Consider: What functions well and what needs to be improved? Even more crucially, WHY? Analyze the workflow and processes that impact the identified practice gap or are affected by it. We'll use the PICO(T).
Acquire- Get the most recent evidence. You'll accomplish this by looking through the publications. Your clinical query will direct your search.
Appraise the available literature. Alternately, arrange, read, and evaluate peer-reviewed material.
Apply- Get your conclusions to clinical judgment. Considering the data, clinical knowledge, and preferences and values of the patient. Make recommendations for common practice based on the available data after that.
Analyze- Analyse the performance and the data and record your strategy. Include any updates or modifications if applicable. Monitor the results of your intervention closely. Review the findings and provide a summary.
Assess- Impart the knowledge. Inform people about the project's outcomes. Sharing encourages best practices and avoids duplication of effort. The resources already available to support or oppose the practice are likewise increased.
EBP can be incorporated into daily practice to assist our work toward achieving the best patient outcomes, even though we may learn how to implement EBP by participating in project-based work. It necessitates that we consider our actions carefully and pose the appropriate queries. It's crucial to remember that while applying evidence at the bedside can be done alone; teamwork increases the likelihood of sustained improvement.
What contrasting elements differentiate research from evidence-based practice?
The idea that EBP and research are interchangeable is a widespread one. It's untrue! Despite their similarities, one of their primary contrasts is that they serve different purposes. The goal of the research is to produce new knowledge or to validate already-held knowledge using a theory. Research is an organized, systematic investigation used to test theories or provide answers to specific concerns. Researchers must follow scientific techniques in logical, consecutive phases if they want their findings to be genuine and dependable.
The goal of EBP, in contrast, is to translate the evidence and apply it to clinical practice and decision-making rather than creating new information or verifying existing knowledge. Using the best available data to guide patient care decisions is the goal of evidence-based practice (EBP). The majority of the most reliable data comes from research. Still, EBP extends beyond that to consider patient preferences and values and the clinical experience of clinicians and healthcare teams.
Before you start, there are a few things to focus
Do you have any supporting evidence? Research results shouldn't be utilized alone to support a change in practice without considering other factors. Other elements that need to be taken into account are:
Patient values and preferences
The healthcare provider's experience
Laboratory results and patient evaluation
Information gleaned from additional sources, like unit-based metrics and workflow
These criteria must be considered for EBP methods to achieve optimum patient results.
These criteria must be considered for EBP methods to achieve optimum patient results.
The role of EPB in nursing
In many nursing disciplines, evidence-based practice (EBP) is essential for providing high-quality patient care. To make decisions, nurses can use data-backed solutions that consider their clinical knowledge and the most recent research through the EBP.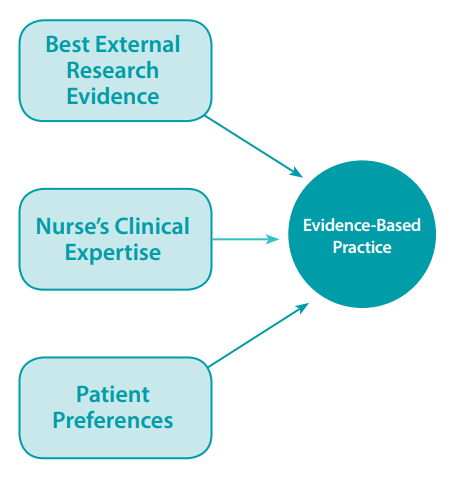 Source: Ckn.org
The importance of evidence-based practice in nursing must be understood by advanced practice registered nurses (APRNs), such as nurse practitioners and nurse anesthetists. They should also develop the abilities necessary to use this practice in medical settings, which can be obtained through an advanced degree.
APRNs can examine the available research and evidence using evidence-based practice and decide on quantitative and qualitative patient care options. To assist others in making decisions, they can also undertake their study and record the results of various treatments.
For instance, an APRN would look at the most recent studies regarding the effectiveness of providing someone oxygen to treat a breathing disorder. When deciding on the next course of action in the patient's care, they may consider this information, their clinical judgment, and the patient's requests. By documenting for future use how a patient with that disease reacts to receiving oxygen, an advanced practice nurse can also contribute to EBP.
Nursing leaders can promote a culture of inquiry by advocating this approach to decision-making in patient care. This culture promotes using the best available data to guide nursing-related decisions, from staffing issues to financial constraints.
The Advantages of Evidence-Based Practice in Nursing
What is the significance of evidence-based practice in nursing? EBP has advantages for patients, nurses, and health care. The following are some advantages of evidence-based nursing practice.
Educating and Empowering Nurses
The EBP advantages are significantly greater when nursing leaders are the driving factor behind its implementation. Evidence-based practice empowers nurses to participate in research, utilize tried-and-true techniques, and toss out unproven ones.
Acquiring More Transparency
EBP aids nurses in avoiding "cookbook" medicine, which merely uses a set of procedures without considering other aspects of evidence-based care. Communicating the rationale behind treatment techniques is straightforward when therapy is based on research-supported, quantitative data.
Enhancing Care
Treatment that considers research and tried-and-true techniques for improving treatment frequently produces better results.
What Abilities Do Nurses Need to Use EBPs?
For EBP techniques to be implemented and governed successfully in a healthcare setting, nurses need a variety of competencies. They should be capable of taking the initiative to develop and put out fresh patient-focused solutions. They must be able to evaluate studies, work through issues, and reach difficult conclusions in light of a wealth of information and facts. Moreover, nurses must be skilled communicators with patients, families, and other staff members in the healthcare facility.
To sum up- Analyzing the Obstacles In Implementing EBPs
Several obstacles may stand in the way of APRNs using EBP care techniques in a clinical setting. In a review of EBP in long-term care institutions, American Nurses observed that among the challenges to successfully implementing evidence-based practice are insufficient training in EBP and a lack of administrative and employee interests. Other difficulties include a lack of resources, rules at a healthcare facility that might obstruct the practice, and a leadership that does not comprehend the value of evidence-based practice. APRNs need to understand these changes to adopt EBP tactics quickly and effectively. Nursing leaders can set the example for promoting evidence-based practice by encouraging staff involvement and exchanging clinical experience.