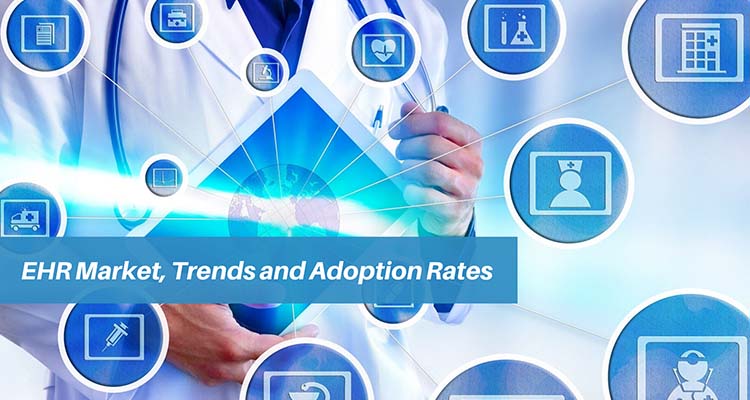 EHR (Electronic Health Record) is the systematized collection of patients' real-time records that make information available instantly and securely to authorized users. One of the key future of EHR is healthcare information can be updated and managed by an authorized person and can share the information with other healthcare providers and other organizations.
EHR Market Value in the US by 2024:
The global EHR market valued at 25.5 billion dollars in 2018 and expected to grow 36.0 billion dollars by 2024 at a constant growth of 6.1% in upcoming years.
The EHR market is driven by factors such as a rise in the adoption rate, incorporation of healthcare information technology. Also, the US government initiatives to go paperless for healthcare data documenting and growing trends of the cloud-based EHR industry creating opportunities for the key players of the market.
According to the national institutes of health, 8.5% of people are aged 65 and going to reach 17% by 2050. Also, cancer causes 9.6 million deaths globally in 2018. All these statics shows that increasing population and subsequent rise in chronic diseases will fuel the demand for EHR solutions. Earlier manual storing the information of patient health records is a time-consuming process and a chance of losing the data is very high. So EHR solution is key to provide an effective clinical workflow, ensures fewer medical errors, and support for clinical patient safety. Also, EHR provides value-based personalized healthcare information with the best outcome for each individual.
EHR Trends:-
In today's healthcare environment, nearly 80% of physicians have adopted EHR technology. However, according to the Centers for Disease Control and Prevention (CDC), only one-third of them used this technology to send and receive information or search for a patient record for another provider. Here are the top five major things of EHR that trends in the future.
Data Security:- When it comes to EHR, data is the crucial component and must protect the patient's data and block unwanted access. In future EHR provides additional security features like bank-level encryption, automatic backup, and ISO certification for information security management.
Patient Experience:- EHR particularly well-positioned in delivering a good experience for patients by analyzing their past data allows serving them better. It allows us to schedule the visit and provides appointment reminders in addition to maintain a good relationship with customers. Now some of the systems offer innovative features automated, personalized communication and allow collecting actionable feedback on patients that improves patient outcomes and provider reputations.
Digital Transformation:- Nowadays most healthcare providers are using technology for documentation, billing, scheduling, and reporting. But on another side, many healthcare providers are still handling patients with paper satisfaction surveys. This type of manual process not only slows down workflow but also increases the inaccuracy in data and error. To address this, EHR must be used to meet healthcare providers' needs. Also, continuous transformation in the EHR is essential in building effective data. In the end, EHR will lead to both healthy patients and financially healthy practices.
EHR Adoption Rates:
In the United States, nine out of ten doctors updated their patients' records manually and store them in files. By the end of 2017, an approximate volume of 90% office-based physicians updated to electronic health records.
Support for EHR Adoption
The annual healthcare spending in the United States is 2.9 million dollars in 2011 and 3.5 trillion dollars in 2015.
The medical error cost 19 billion dollars a year, and 1trillion dollars a year when accounting for lost productivity in the United States.
Medical errors are the third cause of death after heart disease and cancer in the United States.
EHR Adoption Rate:-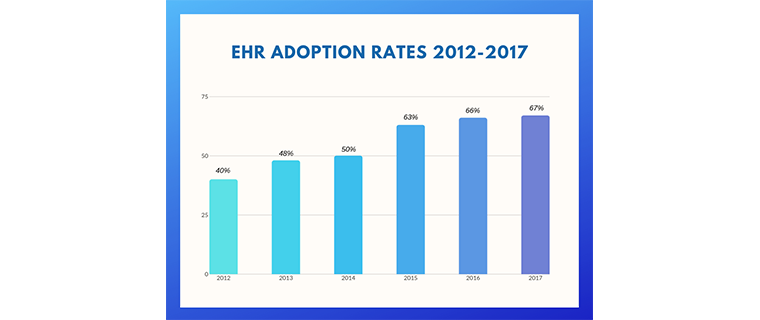 In March 2017, 67% of healthcare organizations reported using an EHR that is a 1% increase over September 2016.
In 2015, about 87% of physicians adopted an EHR and it represents a 4% increase from the previous year.
According to the 2015 NEHRS, 87% of physicians used the EHR system and 78% used a certified EHR system.
Physician specialties with the highest EHR adoption rate are 75% of Family physicians, 74% of Urologists, 75% of Nephrologists, and 76% of internal medicine / Pediatrics.
The state that holds the highest adoption rates are 77% south Dakota, 75% Utah, 75% Lowa, 79% Wyoming, and 74% North Dakota.
Conclusion:
The EHR will play a major roll in the healthcare industry with its controlled flow of data and information. EHR adoption must be considered one of many approaches that expand our focus on healthcare quality improvement and cost reduction.