The COVID-19 global epidemic impacted a national shortage of registered nurses and doctors, making it even more vital to collaborate on strategies to relieve pressures on the employed healthcare workforce and make the entire healthcare system more equitable and stable. As per to Global Healthcare scenario, hospitals must do their best to recruit and retain good doctors and nurses by creating an environment that values the doctors and nurses, provides better opportunities, and gives them an upper hand in the system. You must be wondering what strategies healthcare organizations use to retain credible doctors and nurses to overcome the doctor and nurse shortage. As per the data released by the Association of American Medical Colleges published in 2020, the United States may experience a physician shortage of 139,000 by 2033. This shortage is anticipated to affect both primary care and specialty care.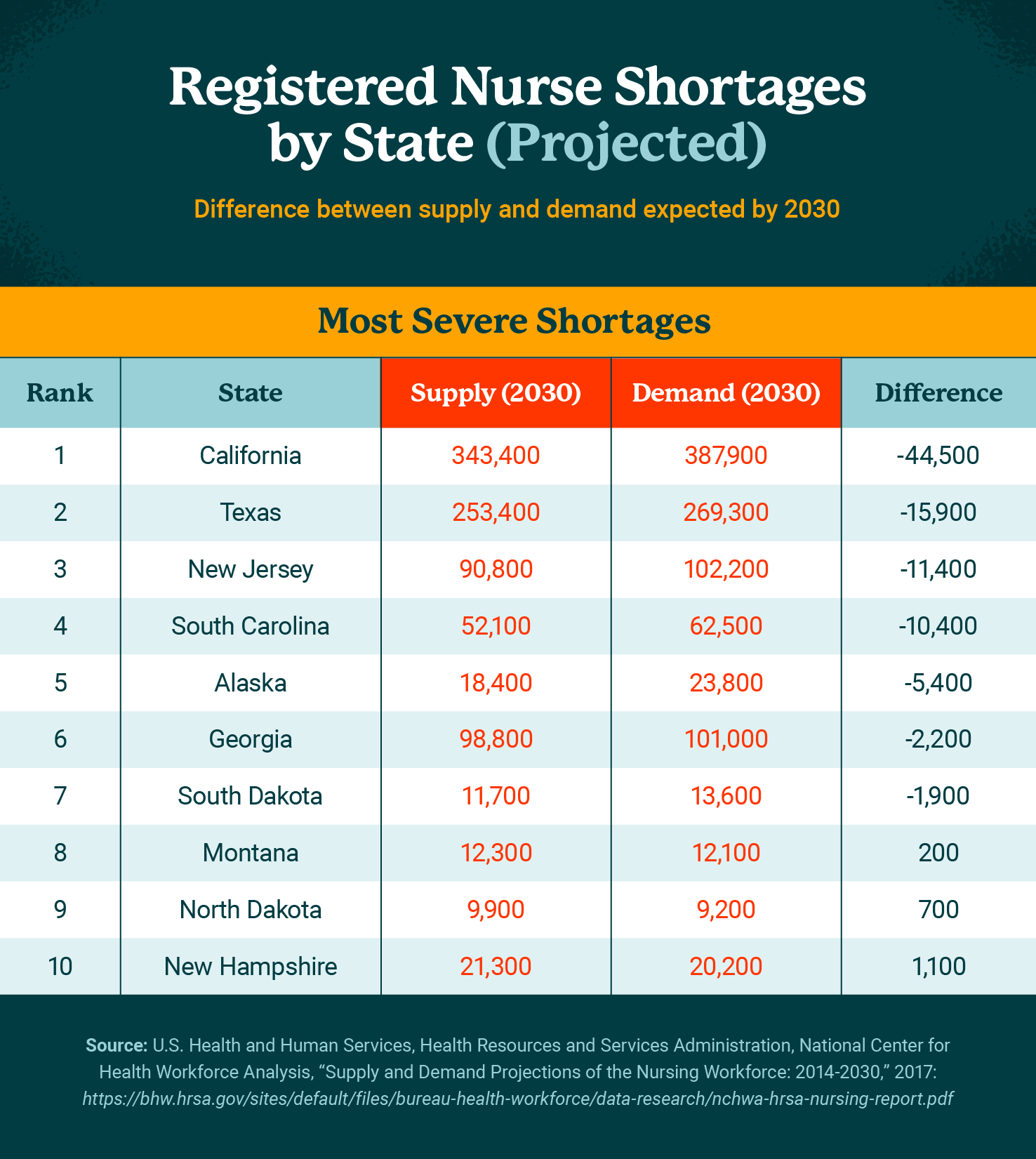 Source - https://www.usa.edu/blog/nursing-shortage/
In this article, we will discuss these enticing topics-
The causes of the acute shortage of doctors and nurses
The best strategies to help in dealing with the shortage of nurses in the US
The demanding strategies that help you to meet the doctor shortage in the US
The causes of the acute shortage of doctors and nurses
Well, before diving deep into the topic, we must know the causes of the shortage and then focus on retaining the healthcare workforce. Nursing is a profession that is especially important for women's economic security. And the doctors are regarded as the Gods in disguise. In the United States last year, approximately 3 million nurses were working—the single largest category of healthcare professionals. Still, there is an ongoing shortage of registered nurses in the United States. These issues have not received the attention they deserve, particularly the inability of higher education institutions to educate enough nurses and doctors. A strong nursing and doctor workforce requires a higher education system that can supply enough medicos and nursing graduates to meet the healthcare system's demands.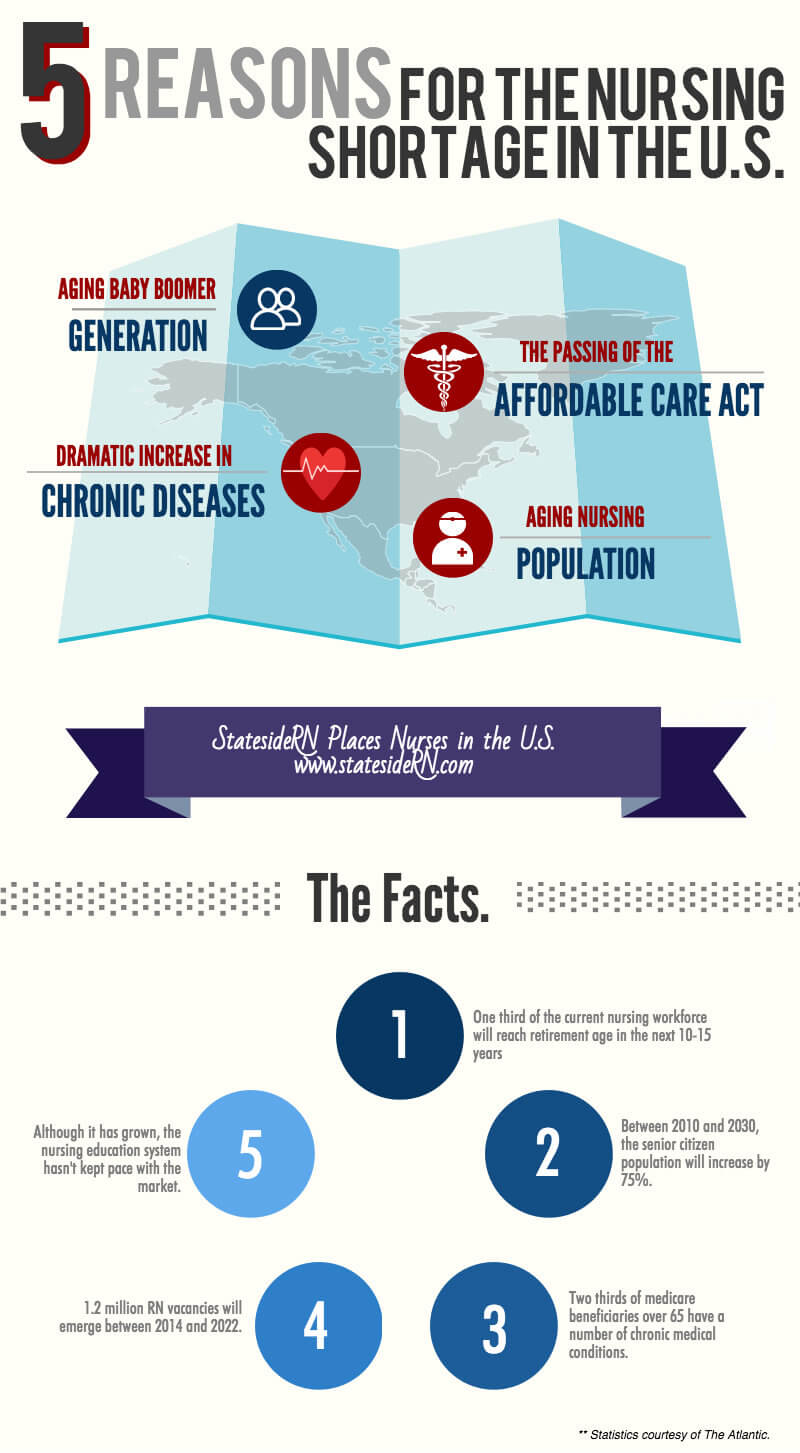 Source - https://careerknacks.com/wp-content/uploads/2016/06/5-Reasons-Nursing-Shortage-Infographic.jpg
It is high time to invest in clinical nursing placements and nursing program facilities so colleges and universities can enroll and graduate more students. Decision-makers should also invest in programs that assist nurses with associate degrees, improving the training, wages, and career paths of doctors and nurses. There are many macro trends and solutions to the nursing shortage, such as increasing financial aid for nursing students and removing legal barriers to phased retirement, which are beyond the control of today's nurse leaders. To help hospitals find and retain nurses, you can use innovative approaches.
By 2033, the USA is expected to have up to 1,39,000 fewer doctors than it currently has due to the retirement of physicians and an aging population. The pandemic exacerbated the situation after these projections were finished, making the shortage of primary care doctors and specialists worse. Compared to other states and regions, some need doctors more urgently and in greater numbers. For instance, it is well known that counties throughout states like Arizona are experiencing a primary care physician shortage. The shortage of primary care physicians is worse in rural areas where only half of the population receives primary healthcare.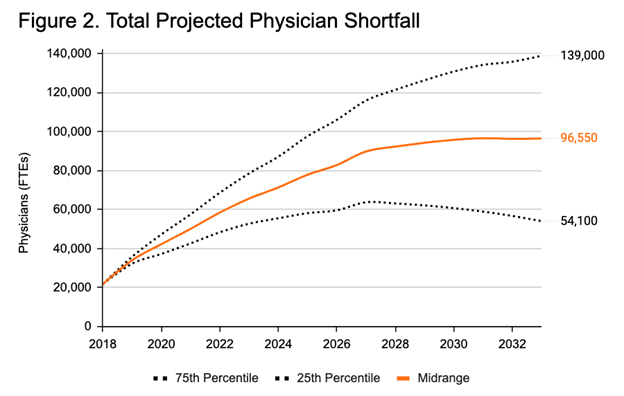 Source - https://reason.org/commentary/covid-19-response-shows-how-americas-physician-shortage-can-be-addressed/
Increasing numbers of Americans utilize nurse practitioners and physician assistants for outpatient care. Family practitioners, pediatricians, and internists will all be in high demand. This is due to the new insurance payment trends that place a greater emphasis on population health and value-based care to ensure that patients receive more care up front, whether in a primary care doctor's office or any other outpatient setting like an urgent care facility or clinic.
Over 55% of all registered nurses are over the age of fifty. Additionally, 52% of the active doctor workforce is on the verge of retirement and is 55 years old or older. The baby boomer generation, now the largest living generation in the US, that too is aging and dealing with more complicated medical conditions than ever before. Also, several medical specialties—including family practitioners, psychiatry, internal medicine, OB/GYNs, and others—will bear the brunt of this shortage. These domains will continue to suffer the most negative effects of an aging population. Hospitals compete to attract and keep their doctors as the number of outpatient facilities such as urgent care facilities, retail clinics, surgery centers, and community health centers rises. There are currently two key concerns about practicing physicians and medical students entering the workforce: (1) remuneration and (2) a stellar work balance. Facilities are understaffed due to the doctor shortage, which could result in burnout and cognitive overload for medical professionals.
These are the causes and analysis of the nurse and doctor shortages in the US. Now let's get ahead to the strategies that help to cope with the shortages of doctors and nurses.
The best strategies to help in dealing with the shortage of nurses in the US
However, innovative approaches can assist hospitals in attracting and keeping nurses. Here are a few original ideas that nurse leaders can start implementing to address the current nursing shortage-
1. Enable scheduling flexibility - This enables nurses to unwind between demanding, emotionally taxing shifts and helps them balance their busy work schedule with their personal obligations and educational opportunities. A happier work environment will result from keeping nurses satisfied with their scheduling, and the hospital will be better able to retain competent nurses.
2. Introduce incentives to the actions you desire from the nurses - Give your nurses incentives that encourage the behaviors you want to see in their work culture. Think about implementing a points system that awards points for taking on extra shifts, picking up bad shifts, or developing new skills. Points may be exchanged for unique gifts or may be used to help nurses move up the pay scale over time. However, offering rewards for the behaviors you want to see can help with employee retention.
3. Reward referrals by turning current nurses into recruiters - Nurses understand what matters most to other nurses and speak the same language as other nurses. Offering financial rewards or other referral incentives can motivate the nurses already employed by your company to recommend other nurses.
4. Invest in ongoing training and career advancement - Medical facilities should spend money on nurses' long-term training and professional development if they want to keep nurses on staff. Employers can provide nurses with new knowledge and skills through distance learning, self-tutorials, on-site classes, and other means as they advance into innovative and managerial roles. However, spreading the training and saving more expensive training endeavors and enjoyable training for senior nurses can save money and increase retention rather than front-loading all the training within the first few months of employment, which can be a waste if a nurse leaves.
5. Utilize an onboarding program to welcome new nurses - Studies and surveys demonstrate that autonomy, community, and group cohesion reduce nurse employee turnover and that nurses who feel like they belong to a community at work are more satisfied with their jobs. Making new nurses feel welcome with an onboarding program can aid in promoting employee retention when hospitals hire new nurses. A strong onboarding program can make it easier for new nurses to adjust to their new roles and reduce their initial sense of overwhelm. A good illustration is to hold off immediately placing new nurses with difficult patients.
The demanding strategies that help you to meet the doctor shortage in the US
1. Increase Pay for primary care physicians - Expanding loan repayment programs can aid primary care doctors burdened by student loan debt. The pay gap between primary care doctors and specialists can be reduced by switching from a fee-for-service model to an alternative one. Offering incentives for current primary care physicians to remain in their positions is the first step in addressing the primary care shortage. The best way to achieve it is to enhance primary care physicians' compensation.
2. Enhance the Care Team with professionals - Primary care physicians have one of the highest burnout rates of any medical specialty. The workload of primary care physicians can be lightened, and their scope of practice can be increased by expanding training programs for nurse practitioners and physician assistants. Providers must increase the size and reach of primary care teams to handle the rising demand for primary care.
3. Get in touch with the students - The medico students are exposed to primary care settings in real-world career academies. According to UCSF, increasing medical education capacity could address most of the USA's chronic primary care shortages. More students are encouraged by novel medical programs and accelerated degree programs. There is a need to provide better education facilities for medical education, enticing students to pursue careers in primary care medicine. Expanding the number and scope of medical training programs throughout the state, especially in reserved areas, is the most reliable way to meet acute physician shortages.
4. Encourage online treatment - Encourage the use of telemedicine so that physicians can treat patients in isolated, rural areas. The flexibility in work modules can ignite more interest in the physicians' work culture.
5. Develop Residency Programs - The number of medical residencies like Texas and Georgia should be increased. Since physician shortages are worst in rural areas, provide grants and stipends to medical students and residents willing to complete clinical rotations there.
To summarize
Understanding the individuals influencing the healthcare sector's future is more crucial than ever because of the industry's ongoing evolution. People passionate about promoting healthier lifestyles can be regarded as the top healthcare influencers. Using their platforms, they share knowledge and guidance on diverse topics, including Medical and technological advancement in Healthcare, exercise, and mental health. Follow these influencers if you're trying to improve your health for guidance and motivation. Our list should provide you with a wealth of options for where to begin your search to gain insight into what's happening in Healthcare or want to learn more about some influential people in this industry. We hope that the stories of these influencers will motivate you to grasp the field of medicine!
On an ending note
The Healthcare Industry in the US has struggled to maintain a sufficient nursing workforce for many years. The COVID-19 pandemic is not the last instance of this problem. Significant federal funding commitments and ongoing coordination are required to lessen the effects of the nursing shortage and strengthen the country's response capacity.
Providing diverse shift options like 8-hour and 12-hour shift options for nurses can better meet their specific needs. To ensure that nurses are happier with their work-life balance and promote greater satisfaction and wellness, there should be more flexibility in shift lengths and start times. This will allow nurses to choose options that best suit their obligations.
Facilities can start implementing distinctive and innovative approaches to recruitment and retention to find workable solutions to this problem, even though significant policy changes and developments are required to address the ongoing nursing shortage. Nursing leaders can set an example by implementing initiatives and programs that can slow the pace of the shortage and lessen its effects on patient care and facility revenues.
The Doctors and Nurses will have equitable access to a high-quality, well-paying profession; more patients will have equitable access to high-quality Healthcare services, and a healthier population will have better educational and life outcomes and be able to build stronger communities if policymakers at all levels think more ambitiously about solving the doctors and nursing shortage.